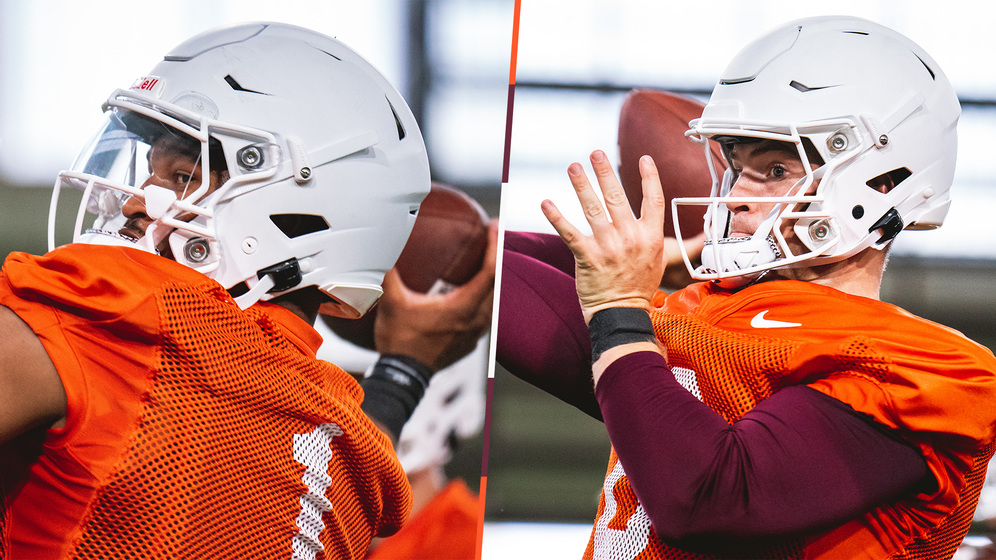 By Marty Gordon
BLACKSBURG – Virginia Tech football coach Brent Pry says no decision has been made on a starting quarterback as fall practice continues this week. Instead, everything remains up in the air.
Pry spoke to reporters this past week and said no decision has been made as of yet, and probably will not until after plenty of practice time. 
For the second straight year, the Hokies enter preseason camp with a quarterback competition, with incumbent Grant Wells and newcomer Kyron Drones battling for the starting job. Both signal callers showed flashes of success during spring practice and the competition could extend deep into fall camp.
Wells started all 11 games for the Hokies in 2022 as a transfer from Marshall. He threw for more than 2,000 yards and nine touchdowns while rushing for another six scores. The Charleston, West Virginia native has 35 games worth of college experience under his belt and the benefit of a full season in the Tech offense.
Drones is a Pearland, Texas native and a former four-star recruit. He spent the last two years at Baylor, appearing in five games as a redshirt freshman in 2022.  
Drones completed 14 of his 23 passes for 219 yards while picking up another 49 yards and two touchdowns on the ground. He has three years of eligibility remaining and his combination of size, arm strength and athleticism makes him an intriguing option.
Pry said he plans to rotate Wells and Drones with the first team receivers and will be watching a lot of film and doing some major evaluation after each practice. 
"You can kind of have your gut and your instincts when you leave the practice field, but you gotta be careful til you watch the film and really see what happened. Could've been a good defensive play, could've been some new coverage in there, could've been not getting open, wrong route, or miscommunication, or just bad ball. So, you evaluate it, you hear from the receivers coach, the quarterbacks coach, and you get a better idea of what really happened."
Wells, a transfer from Marshall, was named Tech's starting quarterback after a strong performance in fall camp last year. While at Marshall, he completed 460 of 715 passes (64.3%) for 5,623 yards with 34 TDs while also running the ball 115 times for 237 yards with nine scores. Wells became the first freshman QB to earn first-team All-Conference USA honors before receiving honorable mention all-conference accolades in 2021 after ranking 15th in the nation with 3,532 passing yards.
The 6-2, 225 Drones arrives in Blacksburg following two seasons at Baylor. As a redshirt freshman in 2022, he played in five games off the bench as a reserve QB. Drones was 14-of-23 for a TD and 219 yards, throwing one interception, and rushed eight times for 49 yards and two TDs. He rushed for a nine-yard TD and was 5-of-7 for 100 yards in his collegiate debut in the season opener vs. UAlbany. 
Drones was pressed into service early in the third quarter at West Virginia after an injury to QB Blake Shapen, going 7 of 14 for 95 yards and a score and rushing twice for 24 yards, including a career-long of 17. He appeared in two games as a freshman in 2021 before redshirting. Drones was a member of the 2022 Second-Team Academic All-Big 12 team and was named to the Big 12 Commissioner's Honor Roll.
The Pearland, Texas native prepped at Shadow Creek High School where he passed for 1,239 yards and 16 touchdowns as a senior in six games while rushing for 228 yards and two scores helping his team to 2019 UIL state championship and a 16-0 record. He earned Offensive MVP honors in the championship game and was named as the 10-5A Overall MVP as well as a Third-Team All-State selection. Drones was rated four stars by 247 Sports, the No. 7 dual-threat quarterback, the No. 20 player in Texas and No. 125 nationally. He was the No. 10 dual-threat quarterback earning a four-star rating from ESPN and ranked No. 60 overall in Texas. He had a three-star rating by Rivals, the No. 45 player in Texas and No. 15 dual-threat QB.
NOTES:
Wells has made 34 career starts under center
Wells has 21 completions of more than 40 yards in his career
Wells was the team's third leading rusher in 2022
Drones was pressed into service early in the third quarter at West Virginia last season, going 7 of 14 for 95 yards and a score and rushing twice for 24 yards, including a career-long of 17
Drones completed a 50-yard pass in a win over Albany
Both Wells and Drones will have a new quarterback coach this season as offensive coordinator Tyler Bowen moves over from the tight ends room
Wells or Drones will be the starter on Sept. 2, but there is plenty of promise in the quarterback room in the form of talented freshmen Dylan Wittke and William "Pop" Watson III, who tossed a touchdown pass to Tucker Holloway in the spring game.