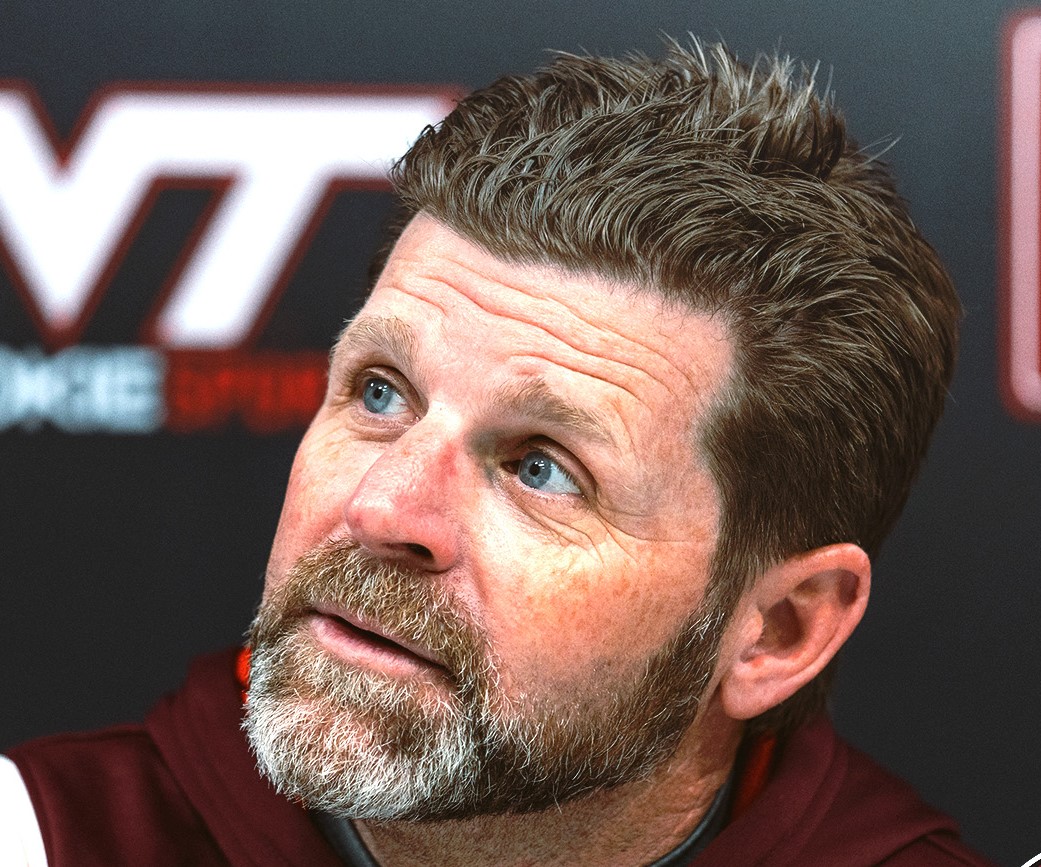 By Marty Gordon
Brent Pry's first year at the helm of the Virginia Tech football program has come to a close, and while he admits his disappointment in the team's 3-7 record, he isn't looking to make major changes to the coaching staff. 
"I have total trust in these guys, love these guys," Pry told the media. "Obviously, we all, including myself, learned a great deal this year about our team, about our staff, and about how we want to operate. The growth and development are encouraging. I may have a different narrative if I weren't encouraged by a lot of things I saw."
For most of the coaching staff, this season was their first in Blacksburg and the first in their specific positions. 
Pry also shrugged off criticism of first-year offensive coordinator Tyler Bowen. 
"I have a ton of confidence in them [the coaches]. Just like all of us, we have to dive into what didn't work and how come. That's what your offseason's about, right?," Pry said. 
"I look at what Florida State has done since hiring [Mike] Norvell," Pry said. "I look at what Shane Beamer is doing at South Carolina, and the time and the growth and where things started. We've gotten a much better handle on where we were when it started. You come out of the Pinstripe Bowl and start evaluating your roster.
"Certainly, it's encouraging to see what TCU has done. I wouldn't have taken this job if I didn't believe that we couldn't flip the script and do this here," Pry said. "I've got the utmost confidence in our staff and the administration. We've got one of the greatest fan bases in the country. This is an attractive place for recruits to come, for the right recruits that are looking for what Virginia Tech has to offer. We're going to put in the time and the investment. There's the support. It's going to take everybody but undoubtedly, we can do this," the head coach said.
Of course, Pry was saddened by what happened in Charlottesville and the cancellation of the Hokies' final game with the Hoos. He told reporters the cancellation was the right thing to do, but he still felt bad for his seniors.
"I'm heartbroken for both groups, UVA's seniors and our seniors, not being able to play that last game," Pry said. "It means too much to both programs. Obviously, in light of what happened, it takes a backseat, rightfully so. I look forward to having these guys walk across that court.
"We're having a small banquet on Sunday to help honor these guys and their families and recognize their contributions, not just this year but over their tenure here," Pry said. "These guys have weathered and endured a lot and invested a lot. I'm eager to honor them and certainly thankful for the way they embraced me and our new staff. Sometimes that can be very challenging. These guys had open ears and open hearts and put out some trust there maybe before it was really earned and deserved. I'm appreciative of that and look forward to paying respect."
The former Penn State defensive coordinator does expect his roster to look a little different next season in Blacksburg and will include several players who might come from the transfer portal. 
Pry said he would like to add competition to every room including quarterback where Grant Wells transferred in this past season from Marshall. He was honest and straightforward in saying the Hokies simply have to get better in certain areas.
"Each and every offseason, these jobs open up," Pry said. "I don't want anyone to feel like they've got a position just because they had it last year. And that's including quarterback."