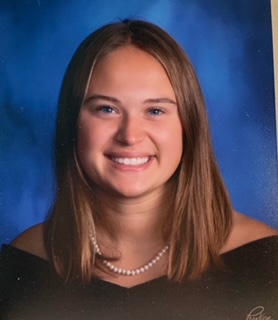 RADFORD – Chapter H, the Radford chapter of the Philanthropic Educational
Organization (PEO), awarded scholarships this past academic year to four young women.
The STAR scholarship worth $2,500 was awarded to Maggie Dent, a graduate of Radford High School. Dent served in several school related leadership roles including being the drum major of
the Radford High Marching Band and performing with and mentoring her high school swim teammates. Dent will attend Arcadia University in Glenside, Penn. this fall in the public health and physical therapy program.
The P.E.O. STAR scholarship was established in 2009 to provide scholarships for exceptional high school women to attend an accredited postsecondary educational institution in the U.S. or Canada in the next academic year.  The competitive scholarship is for women who exhibit
excellence in leadership, academics, extracurricular activities, community service, and the potential for future success.
In addition, Chapter H awarded the two Dorothy Collins scholarships in the amount of $1,500 each; and one Suzanne Garst Glass scholarship in the amount of $1,000.
The Dorothy Collins scholarship was established in 2003 and is available to women who are graduating seniors at Radford High School or Pulaski County High School who will be attending an accredited institution the fall after their high school graduation. The scholarship is named in
honor of Dorothy Collins, the mother of two adopted children who devoted her life to helping underprivileged children. Consistent with her life, this scholarship was established to help young women in this community who need direct financial assistance to achieve their educational goals. The 2022 recipients of the Dorothy Collins scholarships are Radford High School graduate Lindsey Riddle and Pulaski County High School graduate Hannah Flinchum. Both of these  young women will be attending Radford University in the fall to study nursing.
Suzanne Garst Glass was a 46-year member of Chapter H. As a former teacher and social worker, she spent her life promoting education and the social welfare of children. She was dedicated both professionally and personally to the PEO mission of promoting educational opportunities for women.
The 2022 recipient of the Suzanne Garst Glass scholarship is Alexis Newcome. One of three children of a single mom, Newcome will be attending Radford University to pursue a degree in
Criminal Justice. 
PEO is a nonprofit organization that has helped thousands of women pursue educational goals by providing millions of dollars in grants, scholarships, awards, and loans. The sisterhood also owns and supports Cottey College. To learn more about PEO visit peointernational.org.