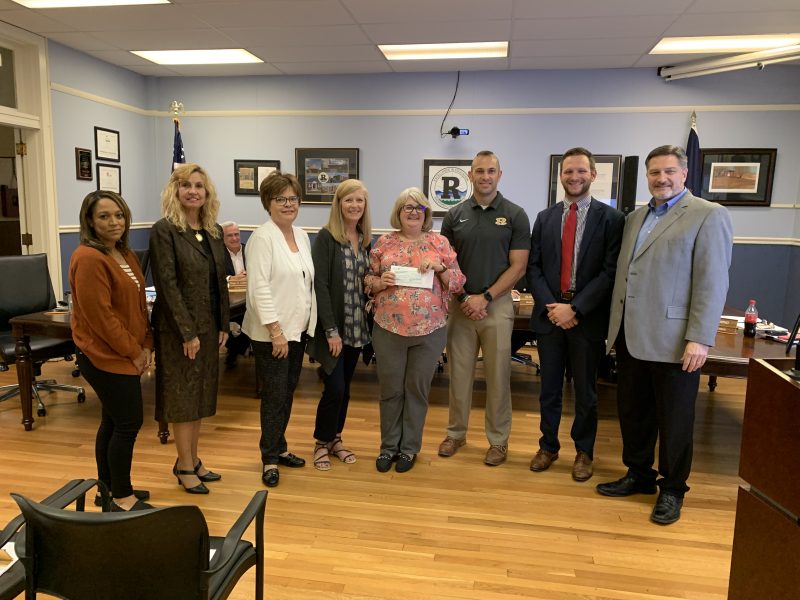 Heather Bell
RADFORD – For more than a decade, the Radford City Schools Partners for Excellence Foundation, Inc. has supported Radford City Public Schools with financial resources to help fund a variety of projects.
On Nov. 7, the foundation presented two large donations to Radford City Public Schools at the school board meeting. 
"The first check for $130,000 will help defray the cost of the Radford High School (RHS) locker rooms renovation project, and the second check in the amount of $75,000 helped pay for the recently completed update of the science rooms and laboratories," the Partners for Excellence announced. "All funds were donated by generous Bobcat supporters who believe in the Foundation's mission."
Formed in 2012, the Radford City Schools Partners for Excellence Foundation, Inc., a 501c3 non-profit organization, "focuses on facility upgrades that support and enhance the academics, arts, and athletics for our city's children through business and individual partnerships." The foundation has raised more than $500,000 for projects since its inception. Previous projects include continuing the restoration of Arnheim, the ancestral home of the City of Radford's namesake, Dr. John Blair Radford, supporting the RCPS Food Hardship Fund, and assisting with the fund-raising for the Chimney Swift habitat on the grounds of McHarg Elementary School. For more information about the foundation, go to https://partnersfoundation.org/.