Photos courtesy of New River Valley Leading Lights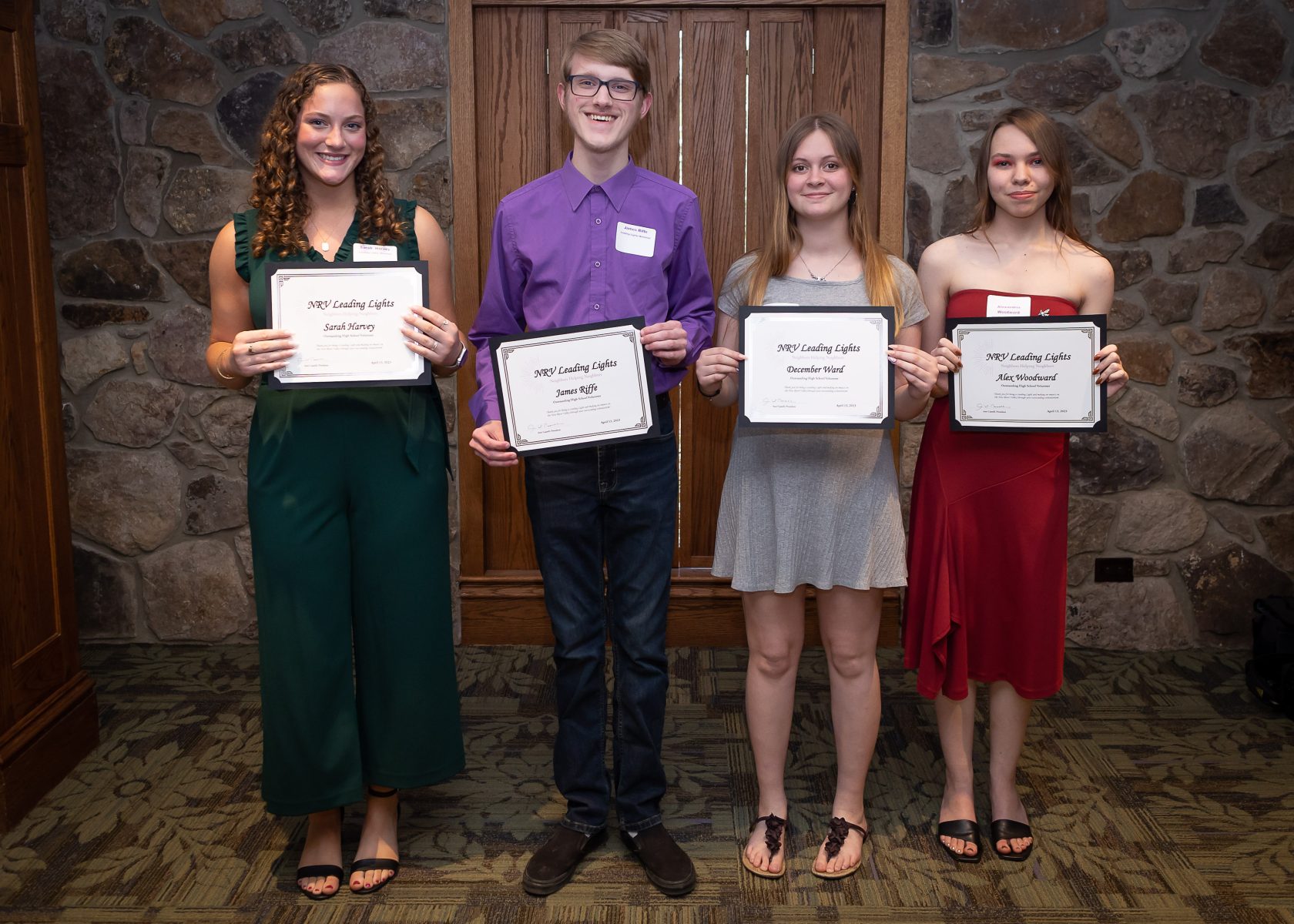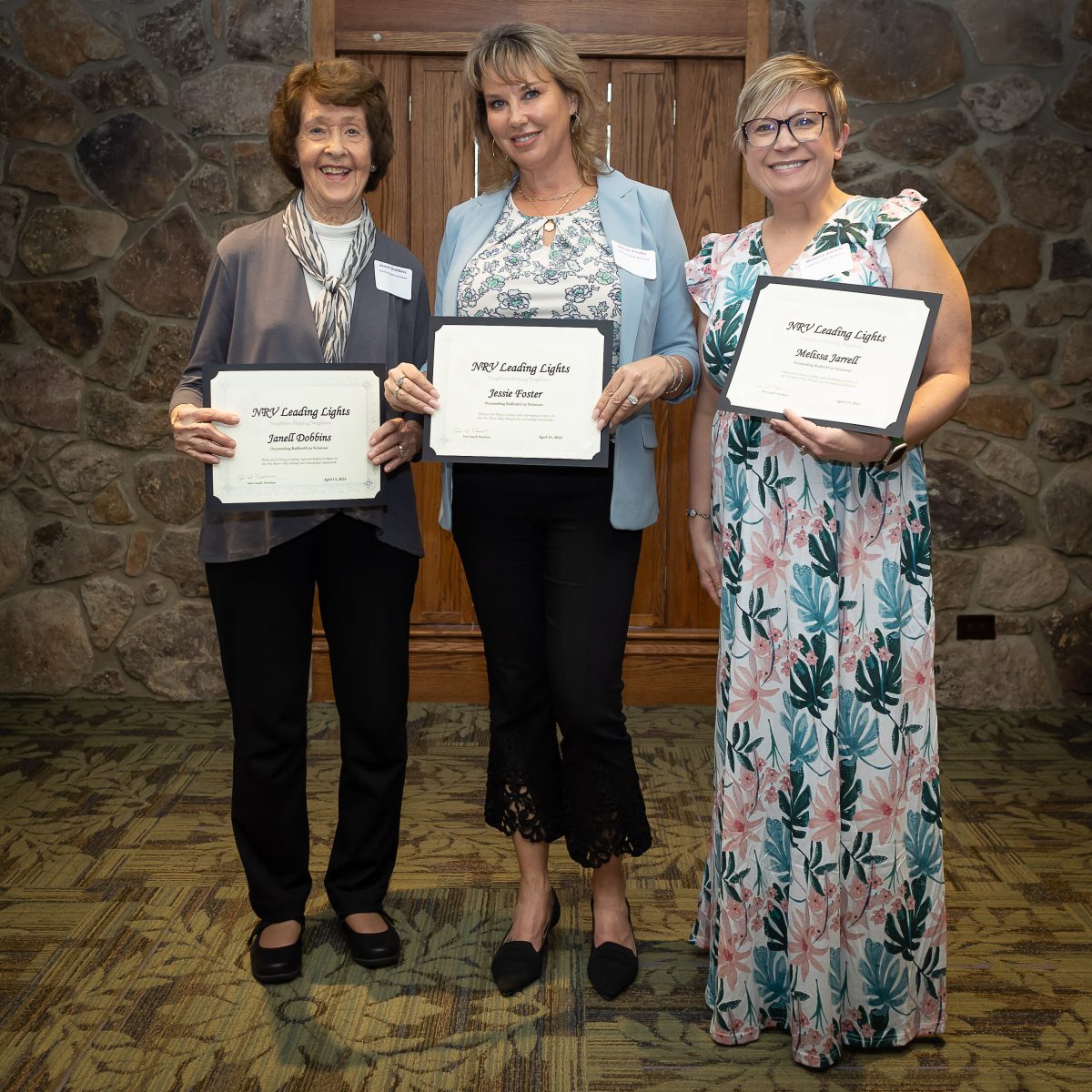 New River Valley Leading Lights recently honored 35 community volunteers at a special ceremony held on April 13 at the German Club at Virginia Tech.  
The New River Valley Leading Lights organization's mission is to acknowledge and honor volunteers across the New River Valley who are making community-changing impacts through volunteerism, culminating in an annual celebratory banquet. Retired Blacksburg Police Chief Anthony Wilson served as this year's guest speaker. 
High school nominees included Sarah Harvey, Radford High School; James Riffe, Radford High School; December Ward, Pulaski County High School; and Alex Woodward, Floyd County.
College nominees included Sarah Grace Hern, Virginia Tech; Amber Litterer, Virginia Tech; Cara Newbill, Virginia Tech; and Madison Webb, New River Community College.
Nominees from Floyd County included Andrew Buckman, Greg Hardwicke, Lori Marsh, Greg Sazonov, Lydean Spangler, and Paul Tremblett. Nominees from Giles County included Denise Blakeney, Faye Cofer, Larry Greene, and Charles N. Herbert, Jr. Nominees from Montgomery County included Becky Daniels, Jan Jackson, Gunin Kiran, Susan Madison, Merissa Sachs, Debbie Sherman-Lee, Scott Smith, and Clara Taylor. Nominees from Pulaski County were Jim Cook and John Ross. Radford City nominees included Janell Dobbins, Jessie Foster, and Melissa Jarrell. Dick Arnold of Montgomery County, Judith Hess Jones of Montgomery County, Drew Smith of Montgomery County, and Mary Catherine Stout of Pulaski County were all nominated in the Lifetime Achievement category. 
From the 35 nominees, 11 were chosen as Distinguished Recipients. The 2023 Leading Lights Distinguished Recipients honored included Sarah Harvey (High School Award), December Ward (Robert "Bob" Job High School Award), Cara Newbill (College Award), Madison Webb (College Award), Greg Sazonov (Floyd Community Award), Larry Greene (Giles Community Award), Debbie Sherman-Lee (Montgomery Community Award), Susan Madison (Montgomery Community Award), John Ross (Pulaski Community Award), and Janell Dobbins (Radford Community Award). Judith Hess Jones of Montgomery County was named as the Lifetime Achievement Distinguished Recipient.
Dick Arnold also received a one-time Founder's Award for all of the work he has contributed to the New River Valley Leading Lights organization and the NRV community.
The community Distinguished Recipients receive $500 to direct to a non-profit of their choice, and the Lifetime Achievement recipient receives $1,000 to direct. The nominees' volunteer efforts include work with food pantries, emergency response, afterschool programs, community groups, clothing drives, community cleanup, education, environmental causes, and many more.
NRV Leading Lights was established in 2007, prompted by the outpouring of voluntary service after the April 16 events at Virginia Tech. The first Leading Lights Recognition Event was held in April 2009. These annual events highlight the extraordinary compassion of ordinary citizens who united in service to others. To learn more about NRV Leading lights, visit www.leadinglightsnrv.org. NRV Leading Lights will be seeking volunteer nominations later this year for the 2024 awards. 
New River Valley Leading Lights