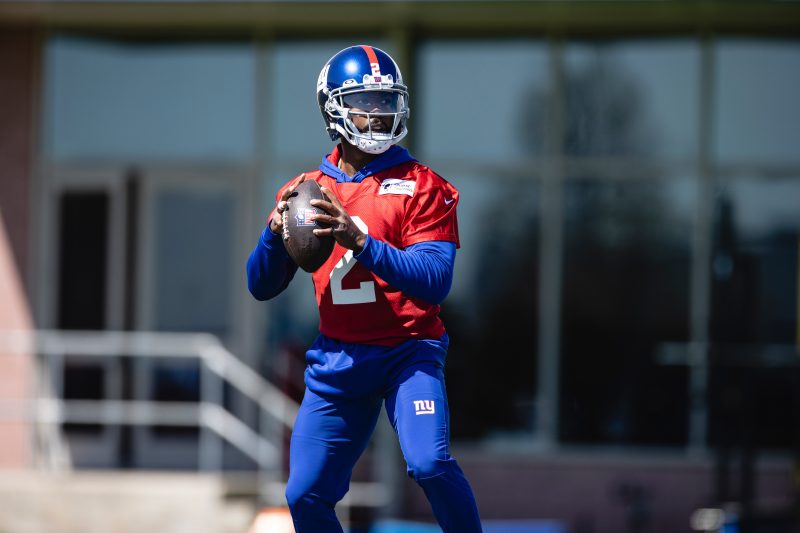 In mid-March, Tyrod Taylor decided to change addresses and relocate to the Big Apple.
Yet wherever he resides, he remains hungry to take a bite out of the food insecurity issues plaguing many small and large communities in the United States.
Taylor '10, a former quarterback on the Virginia Tech football team, continues to invest in this cause, announcing a five-figure gift to The Market of Virginia Tech on a mid-April visit to campus for the Hokies' spring football game. The Market, located on University City Boulevard near campus, serves as the physical destination for many students with food insecurity to select produce, proteins, dairy, and other pantry items for free.
Taylor found out about the university's food assistance program and welcomed partnering with Hema '99 and Mehul Sanghani '98, who helped launch The Market in 2020 with a $1.5 million donation.
 "I met Mehul a few years back and he sparked this idea about this concept, and I thought it was an awesome idea," Taylor said. "I thought it would be nice to partner with them and ultimately help the community. This is definitely a serious issue, as you educate yourself on food insecurity in different communities across the nation. It's bigger than a lot of people realize. It's definitely a special cause and a wonderful opportunity for guys like me who have a platform to give back. This goes a long way for a lot of people."
 Taylor's donation continued his tradition of philanthropic efforts to fight hunger with most of those endeavors directed toward people in his hometown of Hampton, Virginia. In 2020, the Tyrod Taylor Foundation made a $25,000 donation to the Virginia Peninsula Foodbank located in Hampton.
 In the past two years, Taylor's foundation has teamed with Kroger and the Virginia Peninsula Foodbank to organize drive-thru food pantries at both Bassette Elementary School and at Hampton High School where Taylor played and graduated before coming to Virginia Tech. He also partnered with Kroger in November for a turkey drive at Darling Stadium in Hampton.
"We had a good number of turkeys that we were handing out, and 15 minutes into the event, it's all gone," said Taylor. "There were people showing up 20 minutes late to an event, and we don't have anything to give them. You have to ask, 'What's the root of the issue?' It's bigger than we think. It wasn't that people were grabbing more than they should. It's a food insecurity issue within my community and across the nation.
"I've been trying to attack it in different communities," Taylor said. "Obviously, the plan is to continue to keep growing with concepts like this [The Market] across the nation, so that we can help one another. It means a lot to me."