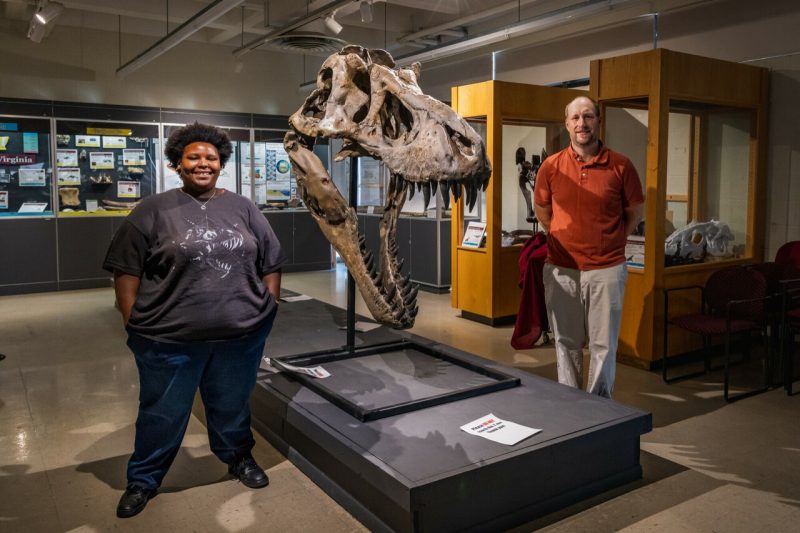 The toothy grin of a familiar face is hoped to open the doors to the wide world of Earth history exploration at Virginia Tech's Museum of Geosciences.
"People always say a Tyrannosaurus rex tooth is about the size of a banana … but you don't really get the scale until you're right there in front of this kind of an animal," said Sterling Nesbitt, an associate professor of geosciences. "This Tyrannosaurus' skull really helps us introduce the idea of Earth history and geosciences as a whole."
At nearly 6 feet long, the life-size replica was molded from one of the world's most complete T. rex skulls, which was discovered in Montana in 2016. Its teeth measure between 5 and 6 inches long. The real skull likely belonged to a roughly 40-foot-long version of the famous carnivore.
The skull model arrived in Blacksburg this year and is hoped to attract visitors to the museum on the second floor of Derring Hall. While there, visitors can explore the thousands of other fossils and artifacts on display.
"It's an iconic form of animal that almost everyone can recognize right away," Nesbitt said. "T. rex lived about 65 million years ago, but the lineage of dinosaurs goes back about 230 million [years], so we're going to be filling that [timeline] out over the next five years or so with discoveries we've made here. … Those are the real stories, so the skull is something people can start with and explore from there."
The museum opened in 1969 as the Geology Museum. Its title shifted to Museum of Geoscience when the geology department became the Department of Geosciences in 2003. The museum collection has increased its focus on vertebrate evolution (the study of fossils with bones) since Nesbitt and fellow researcher and assistant professor of geoscience Michelle Stocker arrived in Blacksburg eight years ago.
Along with thousands of fossils, the museum is home to a 32-inch OmniGlobe spherical display and an extensive collection of mineral specimens, bolstered by the recent donation of long-time supporter Don Dalton's personal collection.
"We have so many different minerals, lots of calcite, and just gorgeous minerals across the board and a whole variation from across the world too," said Mariah Green, manager of the museum. "So all together, it's a pretty big collection — over 14,000 mineral specimens."
A 1960 graduate, Dalton was a long-time donor who helped spearhead the museum's annual mineral sale about 25 years ago. Dalton died in July 2020 and left his personal mineral collection to the museum.
Green joined the College of Science a little more than a year ago after earning degrees at Northeastern Illinois University and the University of Colorado Boulder. She said being around the museum's rich collection allows her to continually expand her knowledge.
"Probably my favorite thing about this museum is just being able to improve it while also learning about new minerals that I never knew existed in my entire life before I got here," Green said.
"During the summer of 2016, I got a chance to do an internship at the Field Museum [in Chicago], and that's kind of what changed my world … made me see this is what I want to do," Green said. "So if I can do that for another student, give them that experience, that makes my heart happy."
For Nesbitt, the addition of the T. rex skull and plans to grow the space around it to include an in-depth history from dinosaurs to birds is representative of the museum's efforts to also expand learning opportunities for the public.
"We're an open space and we're here for people to learn," Nesbitt said. "Each one of the objects in this room tells a story, and those are stories you can't really get across reading from a textbook, but you can come and see."