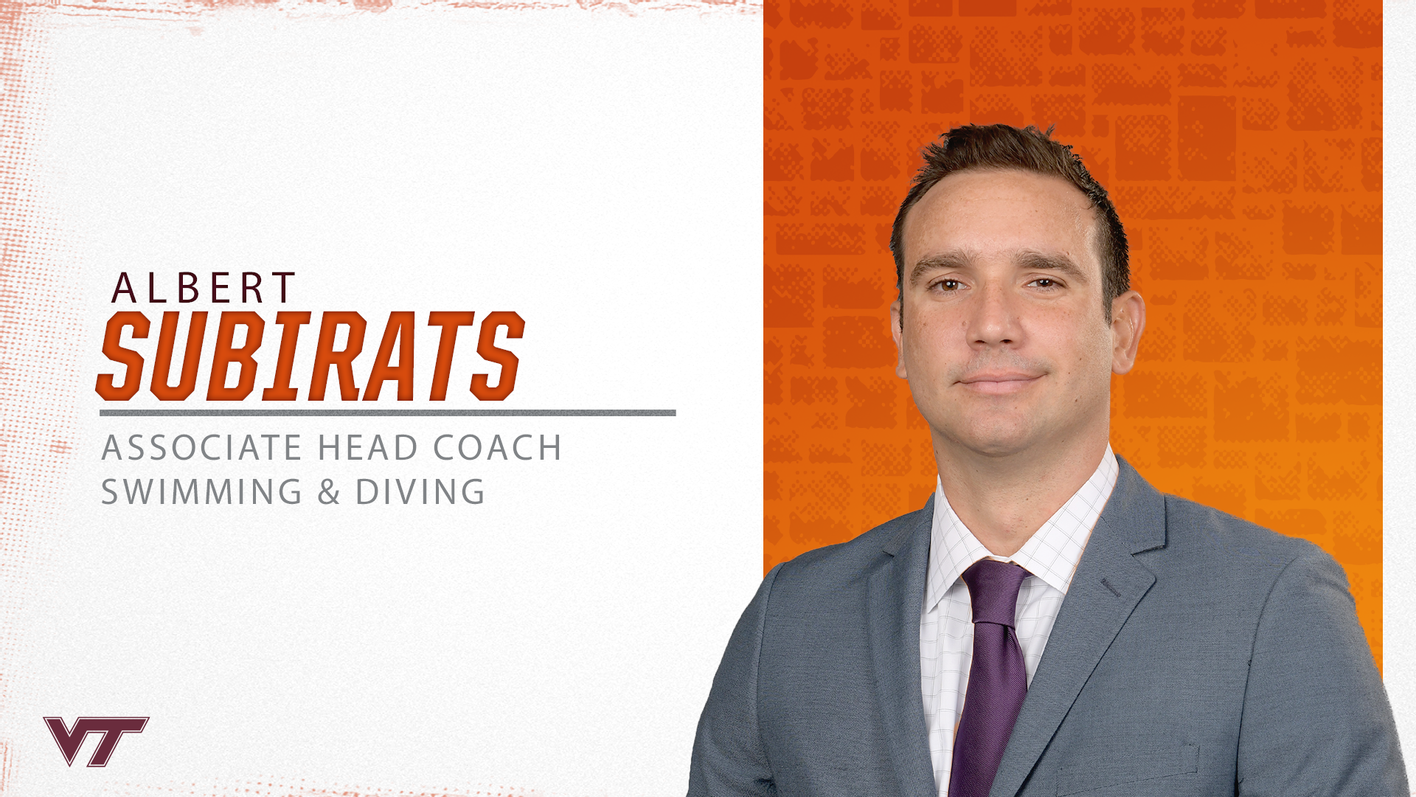 The Virginia Tech swimming and diving team has promoted Albert Subirats to associate head coach and men's recruiting coordinator, announced by Sergio Lopez Miro on Thursday. 
Subirats first joined the swim and dive team in 2018 when Lopez Miro hired him as an assistant coach, and he recently wrapped up his fifth season with the Hokies. 
"I can't thank Coach Albert enough for his tremendous work these past five seasons at all levels; as a person, as a coach and as our recruiting coordinator for the men's team and always supporting our women's recruiting," said Lopez Miro.
Subirats has become one of the top recruiters in the country. Previous swimmers that have not been nationally ranked are swimming competitively at ACC's and NCAA's during their freshman year. Over the past two years, he has brought the first top 10 ranked classes to Virginia Tech, and he's building upon his success with a stellar 2023 class that should be one of the top groups in the country. 
"Equally thankful and excited for this opportunity," said Subirats. "I feel very lucky to work with a staff that is passionate about the sport and always puts the athletes' well-being first. I want to thank Sergio Lopez Miro and Danny White for their leadership and their belief in me. Special thanks to the rest of the staff, all the athletes that have come through VT the past seasons, and their families. Without them, this wouldn't be the same. Can't wait to continue giving everything I have to the athletes and the program. Go Hokies!"
The four-time Olympian competed for Venezuela in the 2004, 2008, 2012 and 2016 Olympic Games. Having won Venezuela's Sportsman Athlete of the Year, Subirats is the most accomplished swimmers in the history of the South American and Central American Games. In 2007, he won Venezuela their first medal at World Championships, earning bronze in the 100m fly. Later in 2010, Subirats was the World Champion in the 50m fly. 
Subirats swam for the University of Arizona from 2004-2007, claiming three individual national titles. He also helped the Wildcats claim five relay national titles during that same time. In 2017, Subirats accomplishments were highly recognized when he was inducted into the University of Arizona Hall of Fame.
Contributing to the Hokies' many successes over the past few years, Subirats helped the men accomplish their highest NCAA finish in program history this past season with the team placing ninth. Since Subirats was hired as a Hokie in 2018, the women's team has progressed from 40th to 20th in the past five years and made their highest NCAA finish in over 10 years.
Virginia Tech Athletics