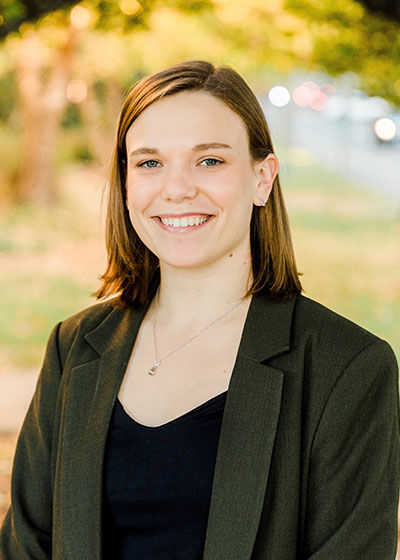 Hannah Curtis, M.H.A. '20, had a thriving career with Carilion Clinic as a media relations specialist and public information officer when she decided she wanted to build on her professional experience with a graduate degree. 
She considered pursuing a master of business administration, but her growing career with the largest healthcare organization in Western Virginia changed her mind.
"After working in corporate communications for Carilion, I saw a future for myself in the healthcare industry," Curtis said. "I wanted to build on my professional experience to ensure that I was choosing a master's degree that complemented my broad bachelor's degree in communication studies."
Curtis said the Master of Healthcare Administration (M.H.A.) program at Radford University Carilion (RUC) was a natural fit. The program is offered online, which is one of its most popular features, and it has allowed her to work and go to school full time. In addition, RUC's Roanoke-based location offered Curtis options if she needed a library or a classroom setting.
"Another benefit was Carilion's partnership with the institution," Curtis said. "The reputable faculty and leaders at RUC, partnered with access to benefits like tuition reimbursement, were major factors in my decision."
Curtis said she researched several M.H.A. programs but ultimately chose RUC's program because it offered the best of both worlds: the flexibility of a high-quality, remote-learning experience paired with in-person resources and support.
Curtis said that during her time in the program and through collaboration with her classmates, she was able to build her own voice on topics that she is often asked to weigh in on professionally. She said she often writes for others and develops talking points for thought leaders. Her experiences at RUC helped develop that talent.
"I'm fortunate to work for an organization that values strong communicators," Curtis said. "As a young professional, my M.H.A. helped to sharpen my skills and acted as a catalyst for me to ask informed questions, making the most of my seat at the table."
Curtis also said that she appreciated the focus on interprofessional education at RUC, which encourages students in different programs to interact with one another as they learn so they are aware of what each healthcare professional does in clinical and non-clinical settings.
"I loved having the opportunity to work with students in other programs through our ethics course," she said. "RUC is a hub for the future allied health workforce, and I appreciated being able to engage with and understand the perspectives of different providers."
Curtis said that she would encourage other students to pursue their M.H.A. degree at RUC based on her positive experience in the program.
Since she graduated, Curtis has continued to experience success and build her career. Recently, she was recognized by The Roanoker magazine as one of the Class of 2022 "40 Under 40." This annual list honors young professionals who are making a difference in the Roanoke area. Curtis made the list out of the 135 candidates that were nominated.
"Having access to quality postgraduate education close to home was an opportunity that I was glad to take full advantage of," Curtis said. "RUC and the M.H.A. program provided everything I needed to complete my graduate education."
Mark Lambert
Radford University