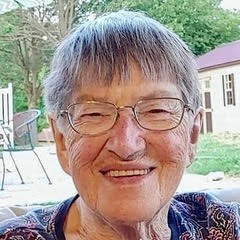 Mary Frances (Dolly) Garst, 86, of Blacksburg, passed away Thursday, July 28, 2022, at LewisGale Medical Center.
She was born in Montgomery County on May 24, 1936, to the late James and Mary Sarver Alls. She was also preceded in death by her husband, Don A. Garst; a son, J. Wayne Garst; a sister, Janie Gray; and a brother, Harry Alls.
She is survived by her children, Libby Heinemann, Mary A. Hendrickson, Jerry A. Garst, and daughter-in-Law Alison Garst; grandchildren Lindsay Holman (Hank), Kari Traugott (Dustin), Kellie Lavine, Leslie Combs (Shaun), Morgan Hendrickson, Emily Garst (John), Katie Prewitt, Vickie Foy (Matt), and Connor York; great-grandchildren Josh Holman, Gage Simpson, Shelby Holman, Austin and Landon Traugott, and Ryan and Aiden Combs; and numerous nieces, nephews, and cousins. 
Funeral services were conducted Tuesday, Aug. 2, 2022, in the McCoy Funeral Home Chapel with Dr. Don McKinney officiating. Interment followed in the Westview Cemetery in Blacksburg.  The family received friends Monday, Aug. 1, 2022, at the McCoy Funeral Home, 150 Country Club Dr. S.W. Blacksburg, VA. In lieu of flowers please consider donating to the Blacksburg Fire Department or Blacksburg Rescue.