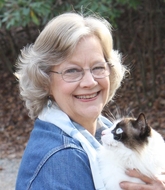 RADFORD – The Radford Public Library's Next Meet the Author event will offer backyard gardeners tips for optimizing their crops.
The RPL is hosting an event called "Eat From Your Garden Year 'Round! with Barbara Pleasant" on Thursday, June 9, 2022 at 7 p.m. at the library. Pleasant's talk will focus on her latest book, "Hometown Pantry."
"Wouldn't it be great to eat from your garden every day of the year?" Pleasant writes. "That's the idea behind my newest book, "Homegrown Pantry." Over 50 food crops are covered from both gardening and kitchen angles,  the start of many great adventures in homegrown food."
Pleasant has been writing about organic gardening for more than 30 years. Her books and articles have won many awards. "Homegrown Pantry," was a finalist for a 2018 INDIE Forward award. 
She has written many other gardening and plant books, including "Starter Vegetable Gardens," "Houseplant Survival Manual" and "The Complete Compost Gardening Guide." She is also a contributing editor to Mother Earth News and Mother Earth Living magazines. She was born and raised in Alabama and lived in North Carolina before moving to Floyd, where she lives with her dogs, cats, and chickens.