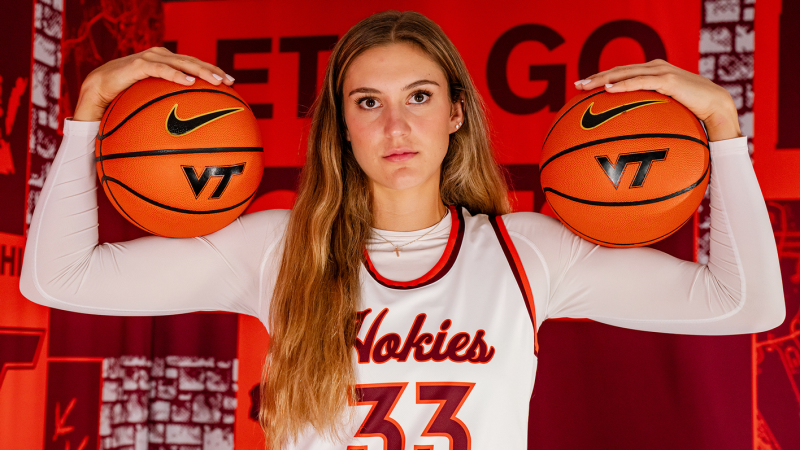 By Marty Gordon
The reigning and defending Atlantic Coast Conference (ACC) tournament champ, Virginia Tech, was at the center of media days in Charlotte, North Carolina, on Tuesday. 
Already, the Lady Hokies are as high as eighth in the AP preseason poll and Thursday morning, they were announced as the outright favorite to win the ACC this season. The league's Blue Ribbon Media Panel gave the Hokies 1,116 votes to second place Notre Dame's 1,052.
The predicted order of finish:
Virginia Tech 1116




2. Notre Dame 1052




3. North Carolina 973




4. Louisville 867




5. Florida State 855




6. Miami 702




7. Duke 686




8. NC State 652




9. Syracuse 504




10. Virginia 438




11. Clemson 395




12. Georgia Tech 342




13. Boston College 226




14. Wake Forest 192
Three starters from the Hokie's 2022-23 team return: center Elizabeth Kitley, point guard Georgia Amoore and sharpshooter Cayla King. 
Kitley, the two-time ACC Player of the Year, Kay Yow Scholar Athlete of the Year and AP All-American, and King, one of the most prolific 3-point shooters in program history chose to utilize their fifth year of eligibility, while Amoore is a senior.
Tech's roster features eight new student-athletes: five true freshman and three student-athletes with previous Power Five experience in Olivia Summiel (Wake Forest), Rose Micheaux (Minnesota) and Matilda Ekh (Michigan State). 
Moore, Kitley and King joined Coach Kenny Brooks in meeting the media this week.
Brooks bragged about the support from Hokie nation this past year. 
"We started slow when we were building it I think eight years ago, and to the point where we got our watch party, we had more people at our watch party this year than we probably did my first game that we had in Cassell Coliseum. You do have to build it, and you get tremendous players, tremendous people to represent your program, and then people will come out and they will support," he told reporters.
"Hokie Nation has some of the best fans in the country. They're very loyal, and they come out and support it, and they even support it off the season has been over. I think it's really hard for those two (Kitley and Amoore) to go to Kroger's and just have a peaceful afternoon or evening because everyone wants a part of them."
In July, the university announced a contract extension for Brooks that will keep him in Blacksburg through March 2029.
Highlights of the contract include a six-year deal totaling $6.4 million, as well as other enhancements made to support staff salaries, assistant coach salary pool, postseason bonuses and operating budget.
Brooks, who enters his eighth season at Virginia Tech in 2023-24, owns a 155-74 record with the Hokies, including a 62-56 mark in ACC play. He has led the Hokies to the postseason each season that one was contested, including each of the last three NCAA Tournaments.  
In 2022-23, Brooks' Hokies went 31-5, won the program's first ACC title, earned a No. 1 seed in the NCAA Tournament and reached the Final Four after a 15-game winning streak that began in January.
Kitley, who has received back-to-back ACC player of the year awards, said it was 50/50 whether she was coming back for another year.
"But the more time that passed in the season and the more I saw how lucky I was to be in the place that I am, it really became clear that another year here would benefit me and be the best for me. And just the opportunity to play with Georgia and to be coached by Coach Brooks and play with Cayla and play in front of Hokie Nation every night, it's so fun and such a great opportunity that I think will benefit me in the long run, basketball and off the court," she said.
Kitley repeated as ACC Player of the Year last season after another dominant season where she was one of three athletes in the nation to average 18 points and 10.5 rebounds. She recorded 23 double-doubles and scored 20 or more 18 times throughout the season, with her season-high of 29 coming in the final regular season game at Georgia Tech. During her senior season she became Tech's all-time leader in points, field goals, blocks and double-doubles while also eclipsing 1,000 rebounds and 2,000 career points.
She is the only VT athlete to be named first team All-ACC three times, All-Defensive twice and earn AP All-American recognition twice.
Amoore has been described as a prolific scorer and a floor general. She said it's just consistency and confidence. 
"I think shooting is definitely more mental than anything. I say this all the time, but coming into college I was not a shooter. I was not preferred to shoot a three. Seriously, I think one of my teammates from Australia brought that up a few months ago, and I was reminiscing on that because now I feel not normal when I don't attempt a three in a game. But yeah, just consistent work over the off-season, and I think going into last year's season I was a bit complacent in trying to share the ball a bit more, which is still a huge part of my job, is to make everyone better."
She believes onlookers have to add a third word when describing her play. 
"I know I have to be a threat, and I know I have to shoot. Coach Brooks has placed stress on me that everything I'm able to do comes from me being a threat from three. I can't be a good pass without being a threat. I can't drive without being a threat from three. So just remembering that that is my number one priority, and keeping up with that is going to help me on every other aspect," Amoore told reporters. 
Amoore has been named to the Watch List for the Nancy Lieberman Point Guard of the Year Award and returns to the court following a tremendous junior season where she burst into the national spotlight after earning ACC Tournament MVP honors and helped lead the Hokies to the Final Four, winning Most Outstanding Player of the Seattle 3 Region.
The Aussie averaged 16.3 points per game last season along with 4.9 assists and shot 35% from beyond the arc. She set a program record with 118 triples made and ranks third all-time in that category at VT.
The Hokies will play host to High Point in the season opener on Nov. 6 followed by a trip to Charlotte to play Caitlin Clark and Iowa on Nov. 9 in the Ally Tipoff. Tech is back home at Cassell Coliseum on Nov. 16 for the first matchup in school history with Houston Christian and again on Nov. 20 to face UNC Greensboro for the first time since 2008.
Thanksgiving week, the Hokies will travel to the tropics to take on Kansas and Tulane in the Cayman Islands Classic.
In the first edition of the ACC-SEC Challenge on Nov. 30, Brooks and the Hokies will travel to Baton Rouge, Louisiana for a meeting with the reigning national champions, LSU. The two met in the national semifinals in March with the Tigers winning a back-and-forth contest 79-72.