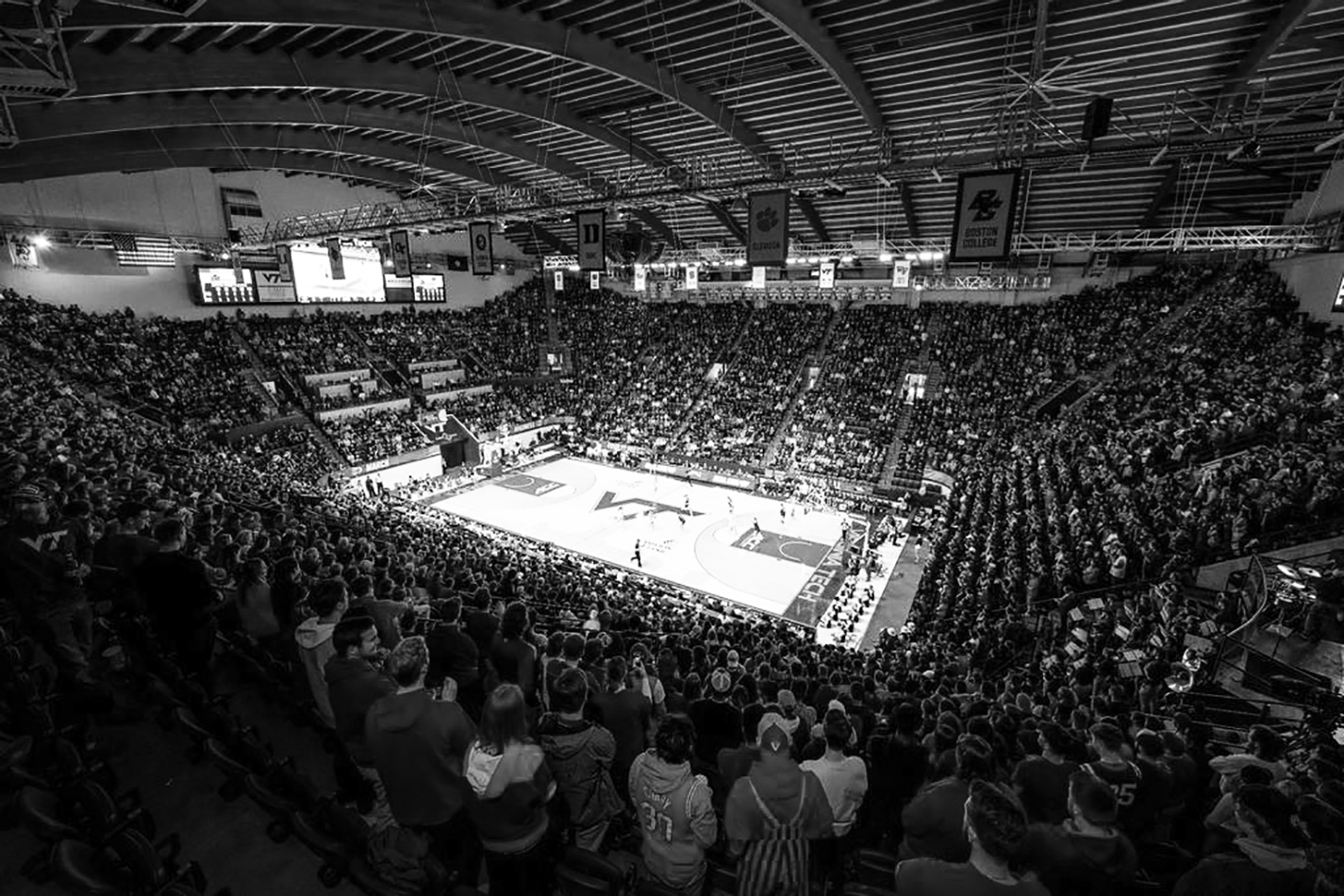 Behind four Hokies in double figures, Virginia Tech defeated South Dakota State 72-60 in the second round of the NCAA Women's Basketball Tournament inside Cassell Coliseum Sunday evening. 
With the win, the Hokies (29-4) advance to the Sweet 16 for the second time in program history (1999) and earn their program-record 29th victory of the season. South Dakota State, the Summit League champion, had its 22-game winning streak snapped, which was the second-longest active streak in the country.
Tech will await the winner between No. 4 seed Tennessee and No. 12 seed Toledo on March 25 in Seattle, Wash. 
Georgia Amoore drained a career-high seven treys on her way to a game-high 21 points – her 12th game of 20 or more points on the season. Amoore was joined in double-figure scoring by Elizabeth Kitley, who notched her 21st double-double with 14 points and a game-high 14 rebounds. The two-time ACC player of the year also registered a game-high five blocks to set the program record for career blocks at 261.
The Hokies came out clicking on all cylinders, shooting 52.8% in the first half. They finished at 41.8% shooting for the game, while holding the Jackrabbits to 37.3%. Tech out-rebounded South Dakota State, 43-36. 
Myah Selland paced three Jackrabbits in double-figure scoring with 17 points. Paige Meyer and Haleigh Timmer chipped in 12 points apiece.
How it Happened
» Amoore hit her 100th triple of the season to open the game, one of five triples by the Hokies in the opening stanza
» Tech was dialed from downtown in the first quarter, converting 5 of 9 (55.6%) from beyond the arc to build a 19-7 advantage; Amoore was 3 for 6 from deep in the period
» Once down by 20, South Dakota State trimmed its deficit to 13 (33-20) with 3:03 left following a 9-2 surge by the Summit League champion
» The Hokies ended the second quarter on a 10-0 run highlighted by back-to-back triples from Taylor Geiman and Cayla King for a 46-23 halftime lead – the most first-half points by Tech since scoring 47 vs. NC State on Feb. 19
» VT shot 75% in the second stanza, connecting on 12 of 16 field goals
» The Jacks answered out of intermission with a 10-2 spurt to get within 15 (48-33) with 5:44 remaining in the third quarter
» South Dakota State went 10 for 13 (76.9%) from the free-throw line in the third quarter as the Jacks outscored Tech, 20-13, in the frame
» With the Hokies' lead cut to 10, Amoore sank her fifth three of the game off a baseline out of bounds play to push Tech's lead to 69-56 with 1:50 remaining
The road to Sweet 16 paved with success.
After years of climbing and looking up at the ACC's mountaintop, Virginia Tech's women's basketball program reached the summit after the Hokies clinched the program's first ACC title. They did so by winning three straight games en route to the 2023 ACC Tournament Championship at the Greensboro Coliseum last week. The run included victories over Miami, Duke and Louisville and personified the athletic department's mantra of being a challenger and ascending to being a champion.
 "Whit [Babcock] talks about going from a challenger brand to a champion brand," head coach Kenny Brooks said following the selection show ceremony. "That's what we've done. It's what we talked about earlier this year, it's what we went out and accomplished." 
When Brooks took over the program in 2016, the Hokies hadn't seen a 20-win season since 2006. Now, Tech has seen six 20-win seasons in his seven-year tenure in Blacksburg. For the first time ever, Tech earned a coveted number one seed for the NCAA Tournament. 
"You don't set out to be a number one seed, you take baby steps first. Try to go from a five to a four so you can host," Brooks said. "But now you have that seed and there's responsibility with that. You have to go out there and play like a number one seed."  
The Hokies are riding an 11-game win streak and haven't lost since January 26, when they fell on the road to Duke. That loss, along with others on the road against Clemson and Miami provided the Hokies with fuel and motivation to reinvent themselves to find success. 
"After those games, we didn't even get to shake their hand because they were in the middle of the court celebrating. You have to go out there and handle that responsibility because people want to take you down with a number beside your name," Brooks said. "They responded beautifully ever since and that's what has helped us transition from that challenger brand to a champion brand nicely."  
One lesson absorbed from the losses and over the course of the year has been to take each part of the journey one step at a time. Tech's laser-focused mentality on the one game at a time approach was a catalyst for the late season success on the hardwood. 
"This group is locked in and focused, they've done that for the last month and a half where they focus only on the task at hand," Brooks said. "The only thing we can control is what happens today and that's to go 1-0." 
Tech learned from its earlier losses when it beat Miami in the ACC Tournament quarterfinals and beat Duke twice, the latter of which was in the semifinals to advance to the title game. Like Brooks, the players too have adopted the 'control what you can control today' mentality. 
"Focusing on us, you can't always control what another team does, you can only control what you do." Taylor Soule told reporters after the ceremony. 
Soule earned All-ACC Second Team honors this season, the fourth All-ACC selection of her career. The Hokies placed two student-athletes: Elizabeth Kitley and Georgia Amoore on the league's First Team. That trio may have been the catalysts for this team, but the unwavering support of Hokie Nation filling the seats in Cassell has added an element not only to this year's team but the program. 
"I knew the community was really passionate about Virginia Tech and that's something that I wanted," Soule said. "My expectations were way exceeded, and I love Hokie Nation."   
Indeed, the support this team has garnered from Virginia Tech fans in Blacksburg has been paramount to the Hokies' success this season. Tech went 14-1 inside the confines of Cassell Coliseum, losing just a single ACC game for the second consecutive season. 
"Give Hokie Nation an opportunity to come out and represent. Our fans are great, they've been great all year, just look at the turnout today," Brooks said on the floor of Cassell following his team's selection. "Just to reward them and to reward our kids and seniors with another game in here is something special." 
 
 
Virginia Tech Athletics