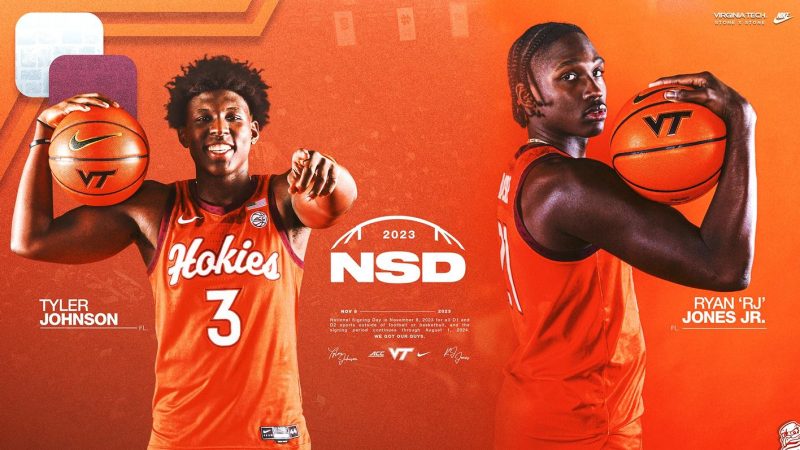 Virginia Tech men's basketball head coach Mike Young announced Tuesday the signings of Tyler Johnson and RJ Jones to national letters of intent for the 2024-25 season.
The Hokies' 2024 class is currently ranked 46th in the nation by 247Sports.
Tyler Johnson 
6-5 | 190 | Guard 
Orlando, Fla.
Oak Ridge High School
Florida Rebels
High School: A four-year letterwinner at Oak Ridge where he was coached by Steve Reece.  All-Metro and Orlando Sentinel All-Central Florida first team as a junior … Coached by Steve Reece and Sean Campbell while playing on the EYBL circuit with the Florida Rebels … Consensus three-star recruit … Rated the 189th-best prospect in the 2024 class on 247Sports … Recognized as the 17th-best player in the state of Florida and the 36th best at his position nationally, according to 247Sports … Chose Tech over FAU, Texas State and Hofstra.
Personal:  Born in Orlando, Fla. Son of Edgar and April Johnson. Father, Edgar, played basketball at the University of West Florida. Uncle, Jamal Davis, played Division I football at Eastern Kentucky University. Has one sister, Tayla. Honors student (4.4 GPA). Planning on majoring in engineering. Career objective is to play well in college and advance his career to the next level.
Coach Webster on Johnson: Tyler Johnson is the epitome of a big guard. He is very versatile and can play with the ball in his hands or off the ball and use his size to post up smaller guards. He will bring that versatility and toughness to the defensive end as well, being able to defend guards and forwards. He comes to us from a great high school program at Oak Ridge (Fla.) and has been coached by one of the best in the country in Steve Reece.
RJ Jones
6-8 | 225 | Forward/Center
Gainesville, Fla.
The Rock School
Judah Nation
High School: A five-year letterwinner at The Rock School where he was coached by Justin Harden. Offensive player of the year as a sophomore and SIAA first team as a junior. Played AAU with Judah Nation. Won a gold medal with Team USA at the 2021 FIBA Americas U16 Championship. Consensus four-star recruit, rated the 69th-best prospect in the 2024 class on 247Sports. Recognized as the 12th-best player in the state of Florida and the 12th-best center nationally, according to 247Sports. Chose Tech over Florida.
Personal: Ryan Jones Jr. (RJ). Born in Lafayette, Ind. Honors student and member of the student council. Son of Ryan Sr. and Monica Jones. Cousin, Dain Dainja, plays basketball for Illinois. Uncle, Don Jackson, played basketball for Northwestern. Has two sisters, Avery and Allicia. Plans on majoring in graphic design. Career objective is to play in the NBA or find a career he loves.
Coach Giltner on Jones: We are excited about RJ officially joining the program for a lot of reasons. His ability to play inside and out, shoot the ball at a high clip, and impose his physicality inside will be a perfect fit for us. After getting to know him and his family for the past few years, it's easy to see that they are great people who value similar things we value. Coming from The Rock, where Coach Harden and his staff have prepared him well, we know we are getting a team-first, hard-working, reliable member to the squad. I know he is excited to embrace Hokie Nation as family, but similarly, Hokie Nation should be excited about him and his potential here at VT!
Virginia Tech Athletics