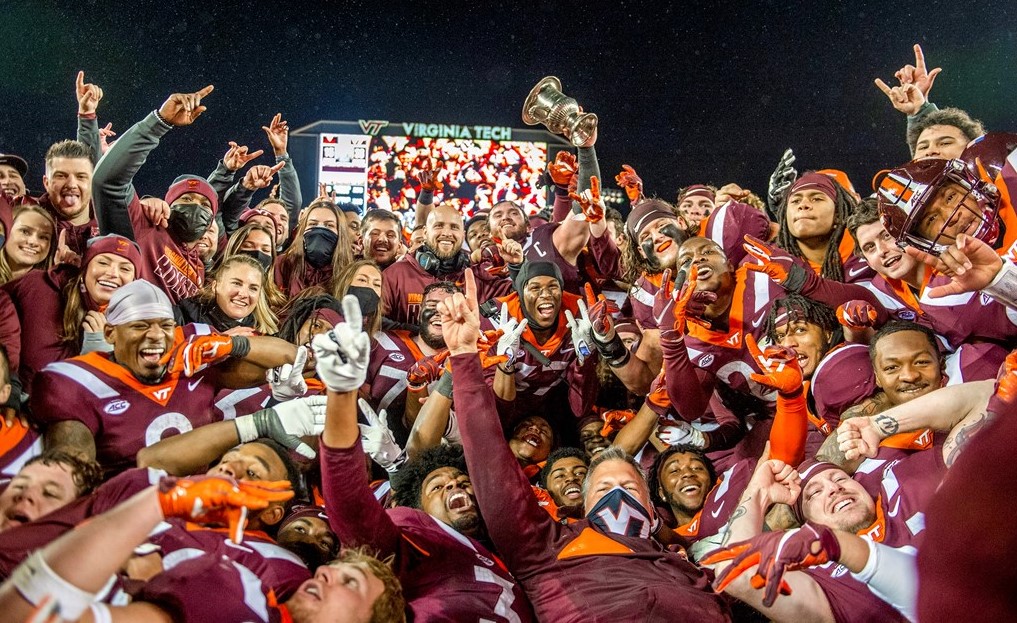 BLACKSBURG – Getting the cup back in convincing fashion, the Virginia Tech football team defeated in-state rival Virginia 33-15 Saturday night at Lane Stadium.
Tech (5-6, 5-5 ACC) got out to a 20-point lead at halftime over the Cavaliers (5-5, 4-5), 27-7, thanks to its second-most yards of offense at halftime this season (NC State, 336 yds). And a big reason why was tailback Khalil "Juice" Herbert's 138 rushing yards the first 20 minutes, including a 76-yard run that went for six.
The first half saw many third-down conversions with UVA getting three on its first drive to go up 7-3 and then the Hokies following suit with seven of their own the rest of the way in the first. Tech put together its longest drive of the season, culminating in a 17-play, 75-yard drive that took 7 minutes, 40 seconds with Tre Turner finishing it off on a jet sweep for a six-yard touchdown.
Getting steady play from its quarterback, Tech's Braxton Burmeister racked up 212 passing yards on 15-of-22 passing with a passing touchdown while earning 36 yards on the ground.
Tech's defense turned in a stout outing, holding the Cavaliers to under 60 rushing yards and their second-fewest points this season (Miami, 14 pts.). Safety Divine Deablo showed out with six tackles, two pass breakups and an interception.
The Hokies have now won 20 of the last 22 games against UVA.
POST GAME NOTES
Virginia Tech is now 59-38-5 against the Cavaliers and 16-1 since joining the ACC in 2004.
The Hokies' 17-play touchdown drive was the longest since a 17-play drive at Pitt in 2018.
Khalil Herbert's 76-yard TD run in six seconds was the longest one-play touchdown drive in VT history since at least 1987 to last six seconds or less.
HEAD COACH JUSTIN FUENTE
Record moves to 38-26 at Virginia Tech and 64-49 in his career.
Recorded the fifth ACC win of the season for the fourth time at Tech (2016, 2017, 2019).
VIRGINIA TECH TEAM NOTES
The 33 points scored against the Tigers mark the 333rd consecutive game Virginia Tech has scored, the third-longest active streak in the nation among FBS schools. It's also the sixth-longest streak in FBS history.
The contest was the first played on Dec. 12 in Virginia Tech football history.
PLAYER NOTES
QB BRAXTON BURMEISTER
Record moves to 3-1 as starting quarterback.
Completed 15 of 22 passes for 212 yards and a touchdown.
Ran the ball seven times for 37 yards.
RB KHALIL HERBERT
Registered his sixth 100-yard rushing game of the season with 162 yards on 20 attempts.
Scored a touchdown on a 76-yard rush, which was the longest rushing play of the season.
RB JALEN HOLSTON
Had 14 carries for 58 yards.
WR TRE TURNER
Recorded his second rushing touchdown of the season on a six-yard carry.
Caught three passes for 25 yards.
WR TAYVION ROBINSON
Had five receptions for 98 yards and a touchdown.
His 60-yd touchdown reception was the longest pass play of the season.
TE JAMES MITCHELL
Had three receptions for 67 yards.
DB DIVINE DEABLO
Recorded his fourth interception of the season and also broke up two other passes.
Led the team with six total tackles.
Wore Coach Beamer's 25 jersey for the contest.
DB DEVIN TAYLOR
DB CHAMARRI CONNER
Made five stops and broke up two passes.
DB ARMANI CHATMAN
Recorded a sack and broke up a pass.
DB DORIAN STRONG
Tallied his first career interception and had a 27-yard return.
Had five total tackles in the game.
LB RAYSHARD ASHBY
Made five stops in the game and had a sack.