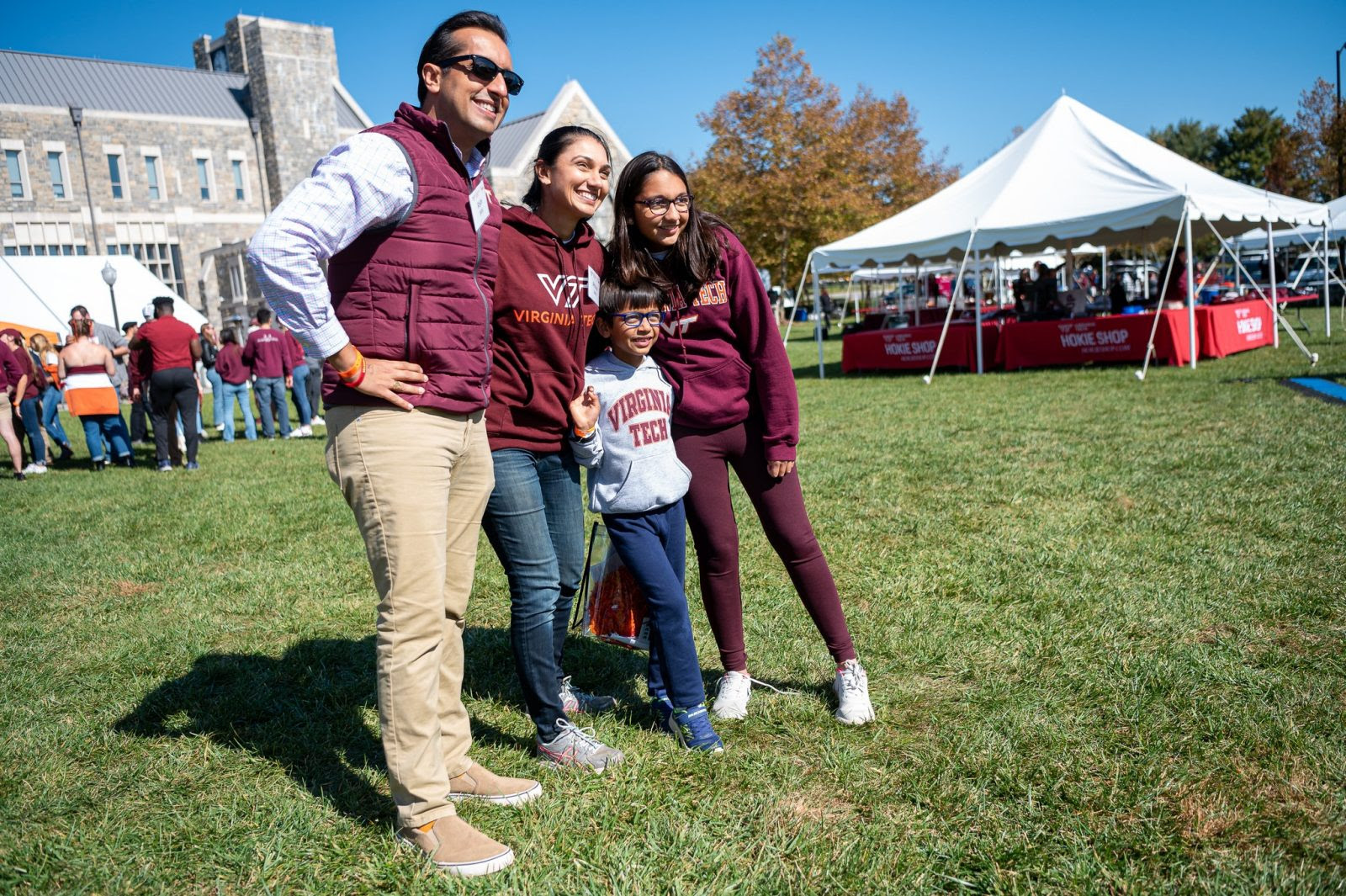 Virginia Tech is hosting a week of events to celebrate Homecoming now through Oct. 14 with a schedule of activities for alumni, students, community members, and friends. 
The festivities culminate in Saturday's alumni tailgate and matchup against Wake Forest.
Students began the fun Monday, Oct. 9, with a Homecoming Kickoff on Prairie Quad featuring food, music, interactive games, and special guests, including the Homecoming Court candidates. The first 500 students received free ice cream from Homestead Creamery. 
Additional student-focused activities happen all week, including Tuesday's Virginia Tech Union Laugh Riot featuring comedian Nore Davis, Wednesday's Homecoming Showcase, and a Homecoming Concert with Young Nudy, sponsored by the Black Student Alliance, in Burruss Hall on Thursday evening. 
Throughout the week, attendees can celebrate Homecoming from near and far by supporting the student Homecoming Court candidate partners and platforms.
Homecoming Weekend will kick off on Friday with a Pass in Review at 3:30 p.m. in honor of the Class of 1973. There will be additional programming for Cornerstone Alumni throughout the weekend.
Young alumni can make plans to meet up at Hokie House for happy hour. Virginia Tech's inclusive alumni organizations will host student and alumni socials and open houses in all five of the cultural and community centers Friday before dinner with prime seating to watch the Homecoming Parade.
The parade, a beloved tradition, will begin at 7 p.m. and make its way down Main Street from Washington Street to Alumni Mall. This year's event will include floats and feature short performances. Friday night will wrap up with a spirit rally on the Drillfield with fireworks. 
Saturday all Hokies are invited to attend the Homecoming Tailgate at 11:30 a.m. The family-friendly event will feature food and drinks, plus lawn games, music, a petting zoo, inflatables, and more. 
Colleges and groups from across campus will host activities and exhibits. The College of Liberal Arts and Human Sciences will feature a game day broadcasting experience, the College of Engineering will showcase student design teams, the College of Architecture, Art and Design will share new music from the L2Ork laptop orchestra, and guests can explore several other demonstrations and hands-on activities. Plus, participants can meet with deans and other Virginia Tech special guests and learn more about inclusive alumni organizations. 
Following the tailgate, the Hokies face Wake Forest in a Maroon Effect game in Lane Stadium at 3:30 p.m. 
The game is sold out. If you plan to attend, be sure to review the fan guide for clear bag policies, cashless concession information, and other important details.
Events are open to the community. Registration is required for some events, including the Homecoming Tailgate. To learn more and see a full Homecoming schedule, visit vt.edu/homecoming.
Annie McCallum for Virginia Tech