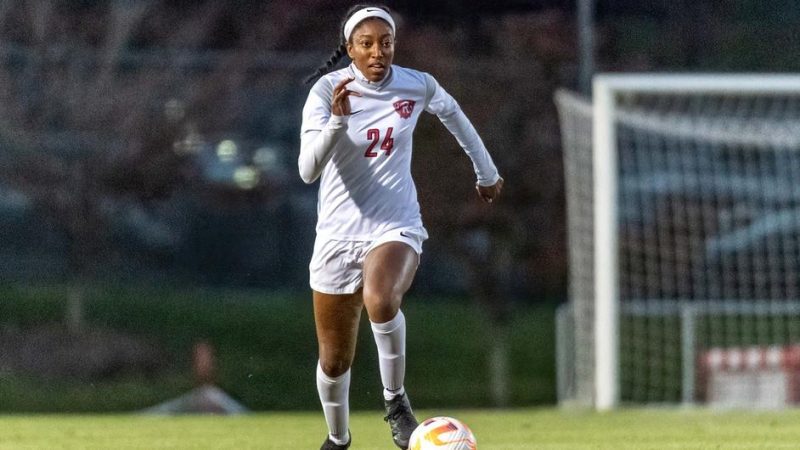 The Big South conference announced Tuesday afternoon that Radford University Women's Soccer standout Saleena Lynch has been awarded the annual Bob McCloskey Insurance Big South Conference Fellowship. Bob McCloskey Insurance, a Big South Corporate Partner, will be awarding $2,000 towards Lynch's graduate studies.
Lynch played a key role in helping the Highlanders win the Big South Tournament in 2022 and clinch a bid into the NCAA Tournament. Lynch appeared in 18 games with 17 starts as a part of the Highlanders' defensive back line totaling 1,357 minutes played. In games that Lynch appeared in, the Highlanders totaled eight shutouts.
Off the field, Lynch participated in eight academic conferences and presentations, including the Southeastern Psychological Association, Psychology & Gender Research Symposium, Student Engagement Forum, and the University of Missouri Alcohol Research Presentation. She is a member of the National Society of Collegiate Scholars and has been awarded Academic Excellence Dean's List honors all four years and was the recipient of the Wyatt Family Athletic Endowment.
Lynch also served Radford as a Resident Assistant, Academic Tutor and a College of Humanities and Behavioral Sciences Elevated Research Mentor. She was Vice President of the Criminal Justice Club, participated in mental health and crisis training, and volunteered with the Special Olympics.
In her four-year career at Radford, the Suffolk, Va. native totaled 68 games played, 52 starts, three assists and 4,539 minutes played. She also played a role in the Highlanders' 2019 Big South Tournament championship in her collegiate debut season. This past season she earned her first Defensive Player of the Week award and was also named to the conference's second team and all-academic lists.
Lynch is currently pursuing her Ph.D. in Cognitive Psychology and Neuroscience from the University of North Carolina. She graduated last December with a 3.96 GPA as a Criminal Justice and Psychology major at Radford.
The Big South Conference Graduate Fellowship Program was established by the league in the Fall of 2005 as a means of recognizing the academic excellence of Big South Conference student-athletes who intend to pursue postgraduate studies upon graduation from a Big South Conference institution. Lynch will be recognized on Thursday, June 1st as a part of the conference's annual Spring Awards Dinner Banquet at The Westin Resort in Hilton Head, S.C.
Nominations for the Graduate Fellowship are made by the Faculty Athletics Representatives or the Chief Academic Officer at a Big South member institution and are limited to one male and one female at each school. To qualify, applicants must have the following requirements:
Have an overall undergraduate cumulative GPA of 3.5 or better based on a maximum 4.0, or the equivalent in other recognized grading systems
Have competed in intercollegiate athletics as a member of a varsity team at a Big South member
Must be either a graduating senior during the academic year of the award, or be enrolled in a graduate program at a Big South school while completing the last year of eligibility
Intend to continue academic work beyond the baccalaureate degree and enroll into a graduate degree program at a properly accredited, non-profit educational institution or into a post-baccalaureate professional degree program at a professionally accredited law school, medical school or the equivalent, without restriction as to the national site of the institution
Have evidenced superior character and superior leadership
Have demonstrated that participation in athletics and community service has been a positive influence on the nominee's personal and intellectual development. Relative success in athletics is important but not of overriding significance
Enroll in a graduate degree program the term subsequent to being awarded the fellowship or present a rationale for deferred matriculation.
Radford University Athletics