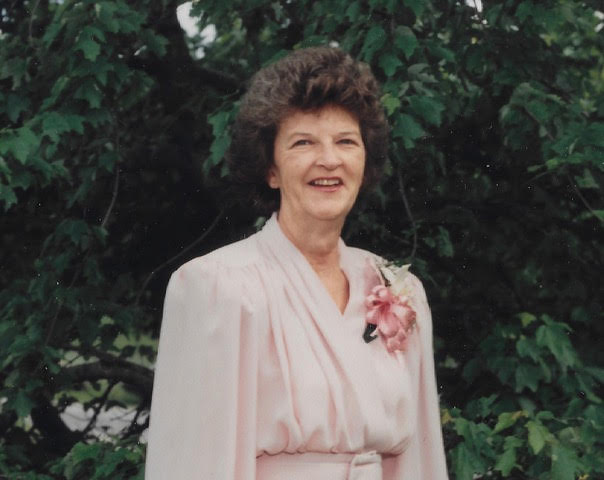 Ila Catherine Linkous Groseclose, 85, of Christiansburg, walked into the arms of Jesus and gained her Heavenly home on Aug. 31, 2023, after a brief battle with lung cancer.  She was surrounded by beloved family in her home at the time of her passing.
Ila was born in February of 1938 in McComas, W.Va., but spent most of her early childhood in the Christiansburg area.  Her parents moved to Speedwell, Va. in Wythe County her first year of high school.  As the second oldest child, and all of her brothers being younger than her, Ila began working on the farm alongside her daddy, and later, her brothers too.  Ila always preferred to be outside, which carried over into her enjoyment of growing beautiful roses, her love of camping, and caring for her many flowers around her home in her retirement years.   After graduating from Speedwell High School in 1954, Ila completed business school.  She was a career woman before that phrase was ever coined.  Ila worked for many years as a legal secretary.  It is rumored that her typing speeds were lightning-fast.  Ila began a career at Virginia DMV in 1976, where she was loved and respected by coworkers and customers alike, especially dealerships and trucking companies because of her expertise and professionalism.  She retired from DMV after over 30 years of dedicated, loyal service to the Commonwealth of Virginia.  
After Ila's retirement, she continued to serve the community by volunteering with Retired and Senior Volunteer Program (RSVP) of Montgomery County.  During Ila's retirement years, she enjoyed camping with many of her family and friends.  Family was important to Ila and she loved spending time with her brothers and sisters, her children, her grandchildren, nieces and nephews, and many other beloved family members too numerous to mention.  Ila and her brothers and sisters have always been an example of how close a family should be during all the joys and trials of life.  Ila especially enjoyed the time she was able to spend with her 18 grandchildren.  During her working years, she was not able to spend as much time with her older grandchildren as she would have liked, but she loved on them in the ways she was able to at the time.  After retirement, she got so much enjoyment from helping care for the younger grandchildren.  She loved all 18 so very much!  Ila's best friend over the last 12 years of her life was Spice, her faithful dog, that she raised from a puppy and loved so much.  She also had close friendships with many special neighbors and friends.
Ila's belief and faith in Jesus was important to her and she prayed constantly for her family members to have that same faith, and for God to take care of each and every one of them.  She attended various churches over the years, but her most recent regularly attended church was Alleghany Church of Christ in Christiansburg.  In recent years she was not able to attend church regularly, but she spent all day on Sundays watching or listening to church services on TV and was enthusiastic to share what she heard and learned with others.
Ila was preceded in death by her husband of 19 years, Harry Clayton Groseclose, Jr.; her parents Frank J. Linkous, Jr. and Nina Bell Shepherd Linkous; her brother Larry Linkous; beloved brothers-in-law Ronnie Meadows and Ronald Williams; and by many other loved ones.
Ila is survived by her children, son and daughter, Dennis and Brenda Bartee of Fincastle, Va.; son, Jeff Groseclose of Christiansburg; daughter and son, Lori and Joe Linkous of Pilot, Va.; and daughter, Cyndi Groseclose of Christiansburg.  She is also survived by her grandchildren Sara Lowe (and B.J.), Heather Rogers (and Shawn), Kayla Groseclose, Amber Sisson (and Adam), Tanner Linkous (and Kayla), Lexi Moore, and Kelsie Groseclose; great-grandchildren Brittany, Maddie, Brianna, Matthew, Jackson, Owen, Ellie, Bryce, and Liona; and great-great grandchildren Beau and Easton.  Ila is survived by her stepdaughter Wilma Nidifer (and Jim) and stepson Keith Groseclose, as well as step-grandchildren Michelle Cassell, Mandy Cassell, Matthew Nidifer, Chelci Groseclose Bolton, and Makenzi Groseclose Witchley.  Ila is also survived by her siblings, sister Shirley Linkous Williams, brother Nelson Linkous (and Barbara), brother Jimmy Linkous (and Brenda), sister Mellie Linkous Meadows, special aunt, Barbara (Speckles) Shepherd Ratliff, and so many other beloved family members.
The family would like to thank the healthcare providers at Lewis Gale Hospital Montgomery, Lewis Gale Medical Center Salem, Valley Ridge Home Health, Blue Ridge Cancer Care, Good Samaritan Hospice, and Christiansburg Rescue Squad, who provided such amazing care for Ila during her brief illness.  Ila's children also wish to thank special family members, granddaughter and nurse Amber Sisson, sister and retired nurse Shirley Williams, and niece Jana Testerman, who helped ensure she had wonderful care at home, and made it possible for Ila to have her wish to stay at home during the last weeks of her life. 
The family will receive friends at McCoy Funeral Home at 150 Country Club Dr. SW, Blacksburg on Thursday, Sept. 7, 2023, noon- 1 p.m.  A funeral service will follow at 1 p.m., immediately followed by a graveside service at Roselawn Memorial Gardens at 2880 North Franklin Street, Christiansburg.  Pastor, and special nephew, Derek Cowan will be officiating the services and taking care of the family's spiritual needs during this time.  Memorial donations may be sent in lieu of flowers, if preferred, to St. Jude Children's Research Hospital.