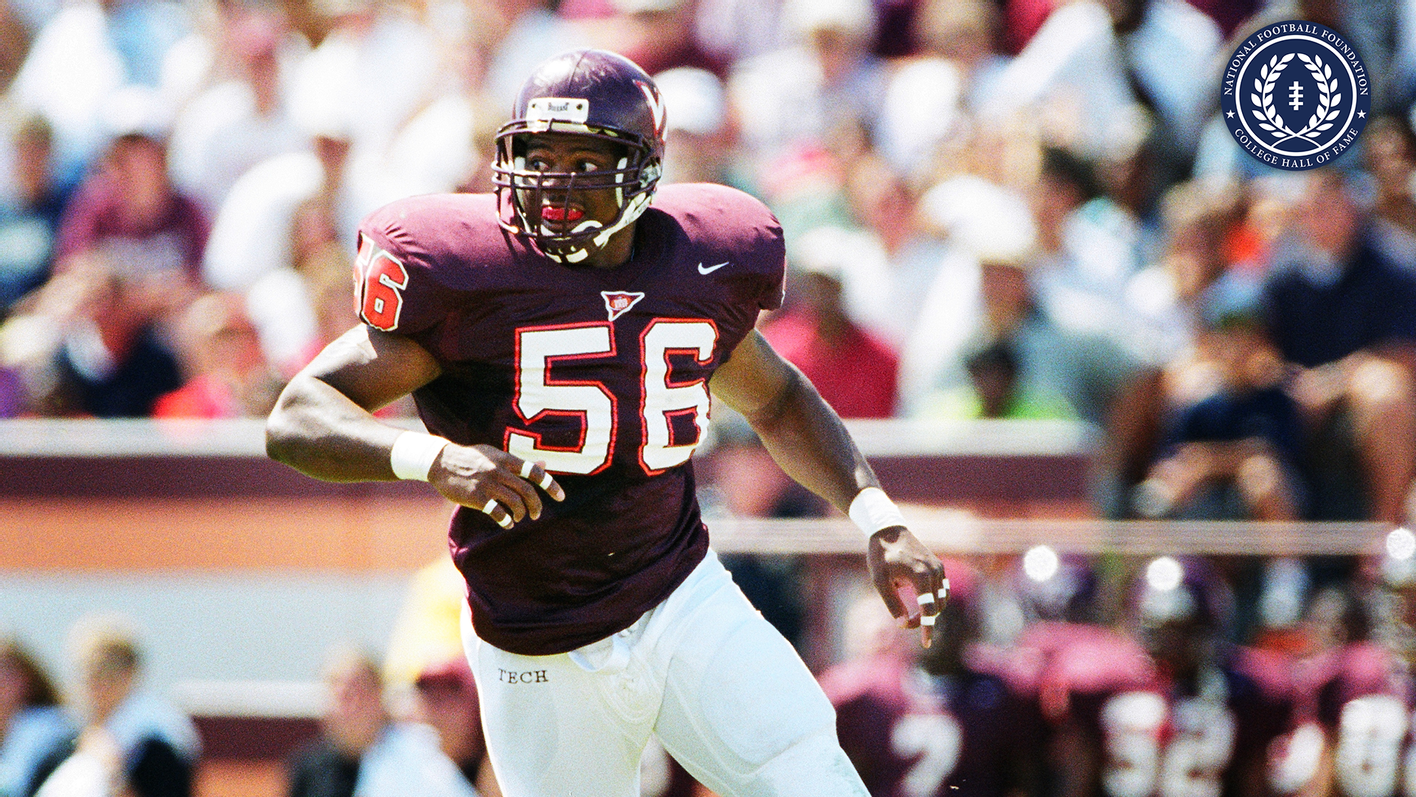 The National Football Foundation and the College Football Hall of Fame announced Monday that Virginia Tech legend Corey Moore is one of 22 new inductees to the College Football Hall of Fame.
The class of 2023 includes 18 first-team All-American players and four coaches. 
One of the most intimidating defensive linemen in college football in the 1990s, Moore left Virginia Tech as the most decorated player ever to put on a Hokie uniform. In 1999, he helped lead the Hokies to the BCS National Championship game. That season Moore won the Bronko Nagurski Award as college football's defensive player of the year, the Lombardi Award as college football's lineman of the year, the Big East Defensive Player of the Year award, and he was a unanimous first-team All-American.
Moore also earned All-America honors in 1998 when he led the Big East with 13.5 sacks. He gained first-team All-America recognition from the Football Coaches Association, was a second-team pick by the AP and The Sporting News, and was a third-team choice of Football News. In three seasons, Moore amassed 166 total tackles and 35 sacks totaling a loss of 292 yards, 58 tackles for loss, six forced fumbles, and three blocked kicks. His No. 56 jersey was retired by Virginia Tech on Oct. 23, 2010.
Moore is the eighth inductee affiliated with Virginia Tech football to be enshrined into the College Football Hall of Fame. The others are Hunter Carpenter (inducted 1957), Andy Gustafson (inducted 1985), Carroll Dale (inducted 1987), Frank Loria (inducted 1999), Jerry Claiborne (inducted 1999), Bruce Smith (inducted 2006) and Frank Beamer (inducted 2018). 
The 2023 College Football Hall of Fame Class will be officially inducted during the 65th National Football Foundation annual awards dinner, presented by Las Vegas, on Dec. 5, 2023, at the ARIA Resort and Casino.
The inductees will also be recognized at their respective collegiate institutions with National Football Foundation Hall of Fame On-Campus Salutes, presented by Fidelity Investments, during the fall. Their accomplishments will be forever immortalized at the Chick-fil-A College Football Hall of Fame in Atlanta, and each inductee will receive a custom ring created by Jostens, the official and exclusive supplier of National Football Foundation rings.