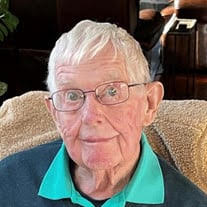 Ronald Flanary ("Chub"), 87, of Christiansburg, passed away Oct. 27, 2023. 
He was preceded in death by his wife of 62 years, Virginia Flanary; his father, Walter Flanary; mother, Marie Flanary; sisters, Peggy Shupe, Betty Moore, Dorthy Roberts, and Joanne Collins and stepbrother, Everet.
Chub is survived by one brother; JR Flanary, his two sons; Charles Flanary, Ronald G. Flanary II, and his wife Michele, grandchildren; Trevor Flanary and his wife Emily Flanary, Taylor Flanary, and Chris Flanary.
Chub retired after 38 years at Bell Atlantic. After retirement he enjoyed building houses, working on his farm, collecting coins, and supporting his family.
He was a Marine, served as a volunteer fireman in Saint Paul, a longtime member of the Lions Club (first in Castlewood and later in Christiansburg), a member of the Retired Senior Volunteer Program, and enjoyed attending church.
A memorial service will be held on Sunday, Nov. 5, 2023, at 3 p.m. at Horne Funeral Home.