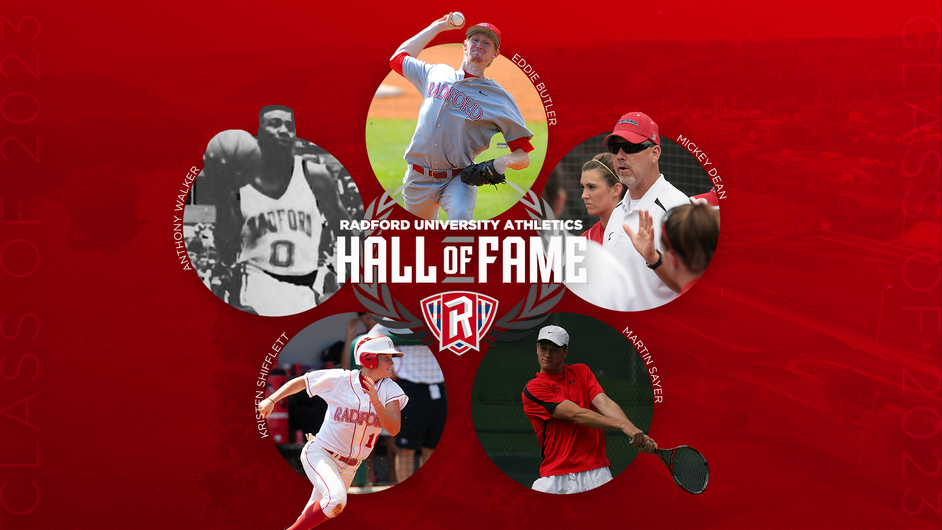 Radford University Athletics has announced five new members that will be inducted into the Radford Athletics Hall of Fame in October. 
The Class of 2023 will include Eddie Butler (Baseball), Mickey Dean (Softball), Martin Sayer (Men's Tennis), Kristen Shifflett (Softball) and Anthony Walker (Men's Basketball).
The five-member class will be the 20th to be inducted into the Radford Athletics Hall of Fame. This year's induction ceremony will once again help kick off Homecoming Weekend festivities and will be held inside Kyle Hall on October 20. For more information on the Radford Athletics Hall of Fame Induction Ceremony, click here.
EDDIE BUTLER
Baseball | 2010-12
There is no disputing that Butler was one of the most talented players to ever don the Radford Baseball uniform. The righty was a two-time All-Big South selection and was voted as the Big South and VaSID Pitcher of the Year in 2012 after the school's single-season ERA record. He ranks second in program history for career wins (22), third for career shutouts (3), fourth for career strikeouts (232), seventh for career starts (43) and eighth for career ERA (3.84). Butler went on to become the first player in Big South history to be drafted in the first round of the Major League Baseball First Year Player Draft, going 46th overall to the Colorado Rockies.
MICKEY DEAN
Head Softball Coach | 2007-12
In his six years at the helm of the Radford Softball program, Dean cemented himself as one of the greatest coaches ever to represent the Highlanders. His teams achieved an overall record of 241-116 (.675), including an 84-21 (.800) in the Big South Conference, making Radford the winningest program in the state of Virginia from 2006-09. He led Radford to four Big South regular season championships and a pair of Big South Tournament titles, claiming the program's first three NCAA Tournament victories as well. Dean earned four consecutive Big South Coach of the Year honors as a result. He is currently the Head Softball Coach at Auburn University in the Southeastern Conference (SEC).
MARTIN SAYER
Men's Tennis | 2005-09
Following his tragic passing, Martin Sayer will be inducted posthumously. The king of the court for four straight years, Sayer emerged as the most dominant player Radford has ever seen. With the most singles wins in program history (114) and the fourth-most doubles wins in program history (65), Sayer was a four-time Big South Player of the Year, four-time All-Big South player in both singles and doubles, and a four-time NCAA Tournament participant. He is one of just two Big South athletes to ever win at the NCAA Individual Tournament, cementing his place on the 2000's Big South All-Decade Team as well.
KRISTEN SHIFFLETT
Softball | 2008-11
A catalyst for Radford Softball's most successful era, Shifflett sits at the top of nearly every category in the program's record books. She is first in program history for career runs scored (179) and tied for first for doubles (53), as well as second in program history for career hits (246), home runs (41), slugging percentage (.563), total bases (436) and assists (497). A three-time First Team All-Big South selection and two-time Big South Tournament MVP, Shifflett's premier campaign came in 2010 when she was named Big South and VaSID Player of the Year and Big South Female Student-Athlete of the Year.
ANTHONY WALKER
Men's Basketball | 1993-97
Walker was named Big South Freshman of the Year in his debut season as a Highlander and never looked back. A two-time All-Big South selection, he is one of just six players in program history to score 1,600 points and is sixth all-time with 14.7 points per game. He dished it out as well as he could score it, ranking second in program history with 510 career assists. Beyond that, Walker remains in the top-10 in Radford Men's Basketball history for career field goals made, 3-point FG made, 3-point FG percentage, free throws made, free throw percentage, steals, and games started.
Radford University Athletics