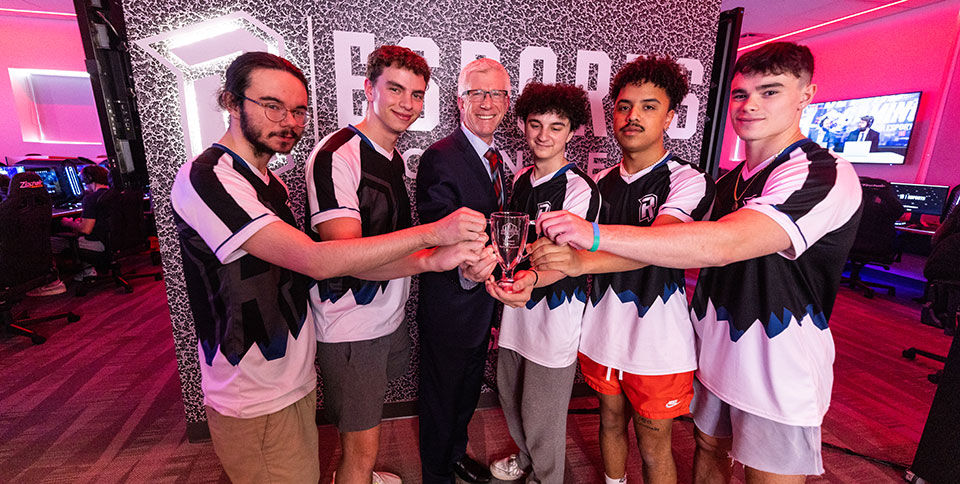 Before leaving campus for the summer, the Radford University esports Valorant team hit pause for a moment on Friday, April 28, to pose for photographs with a special guest to their arena: President Bret Danilowicz.
The group got a visit from the university's leader, among other perks, for winning their first-ever championship for the game in the Mid-Atlantic Esports Conference. The five-member Radford Valorant team secured the title in a best-of-three matchup, losing the first contest but winning the final two games, both in exhilarating, heart-thumping fashion in overtime, against George Mason University in front of a live audience of 50 people in Shenandoah University's esports arena and about 1,500 more watching intently online.
"We made a crazy comeback on the other team, and it was just surreal," said team member Chad Matthews, a junior biology major from Manassas, Virginia. "It was incredible. To pull off something like that is something you can only imagine."
Teammate Brandon Danet, a junior information technology major from Newport News, Virginia, called the experience "electric," adding, "I play to win, and it was great to achieve that."
Rounding out the Radford esports team are Sam Friedman, Andrew Guarino and James Spaulding.
In addition to winning the tournament, the Radford players were "regular season champions with a 7-1 record going into playoffs," said Esports Assistant Director Doug Benedict.
The Mid-Atlantic Esports Conference comprises teams from George Mason, Old Dominion University, Virginia Commonwealth University, Randolph College, Shenandoah, American University and Catholic University.
In February, the Radford esports team operated and competed in the Big South Conference's Esports Tournament in the Rocket League between conferment tournament basketball games inside the Bojangles Coliseum in Charlotte, North Carolina.
When competing on its home turf, the Radford team makes use of the ultra-modern Esports Center inside Cook Hall, which has 40 game stations with high-powered PCs.

Chad Osborne for Radford University