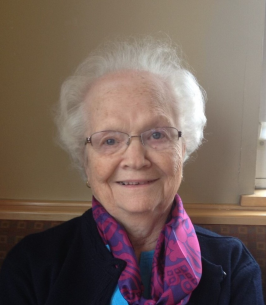 Jewell Vaught Epling, died peacefully on Wednesday, Aug. 2, 2023, surrounded by her loving husband, Bill, and family. She succumbed to complications due to a long battle with dementia. Jewell lived a life of devotion and caring, especially centered on her family.
Jewell was born in Newport, Va., to the late Elizabeth "Lizzie" Cook Vaught and Leonard Christian Vaught. She was the eighth of 11 children and grew up as a hardworking farm girl. Her future husband, Bill, was also born and raised on a farm two miles away on Spruce Run Road. They were married on September 13, 1953. Their love for each other has sustained them throughout their 70 years of married life, and it has been an inspiration to their family and many others.
After their marriage, Jewell and Bill continued to live on Spruce Run for 11 years. Their three children, Billy, Janet, and Carol were born during this time. Jewell's life was full: caring for Bill, her young children, her mother, Bill's father and brother, and farm work.
In 1964, Jewell and Bill moved their family to Salem, Va., and soon became members of Fort Lewis Christian Church. As always, family, and hard work remained the center of Jewell's life. While raising her children, Jewell continued to care for her mother in their Salem home. In later years, Jewell took a job with General Electric, where she worked for three years. She also worked at ITT Corporation for 13 years, retiring in 1991.
After retirement, Jewell enjoyed many years traveling throughout the United States with Bill and their friends. She loved antiquing with her family. She enjoyed spoiling her grandchildren when they came to visit (without their parents). And no one could make better chipped beef gravy and biscuits, or pound cake.
Jewell is survived by her husband, William Brady Epling; her son, William Brady Epling, Jr, and wife, Debbie of Aiken, S.C.; her daughters, Janet Epling Shaw, and husband, Rusty of Herndon, Va., and Dr. Carol Ann Epling, and husband, Dr. Brad Gaynes of Chapel Hill, N.C. She has six grandchildren, Brad (Jennifer), Beth, Kathryn (Nathan), Margaret, Helen, and Ben; as well as many nieces and nephews. Jewell is also survived by three siblings, Leon Vaught of Floyd, Sylvia Vaught Pace of Newport News, and Howard Vaught of Roanoke.
Jewell lived the last 11 years of her life receiving memory care at Richfield Living in Salem. Her family is grateful for the many compassionate people at the Joseph C. Thomas Center and the Health Center – Salem who knew and cared for her. Jewell's family is also especially grateful to Lynnette Smith who was Jewell's dear companion for many years.
A Celebration of Life will be held at 10 a.m. Saturday, Aug. 12, 2023, at the Richfield Living – Town Center Chapel, 3730 Richfield Ln., Salem, VA 24153, with Chaplain Gary Kingery officiating. Interment will follow at Sherwood Memorial Park in Salem.
Friends may begin gathering to visit with the family after 9 a.m. on Saturday in the chapel.
In lieu of flowers, memorial contributions may be made to Fort Lewis Christian Church (Disciples of Christ), 2931 West Main Street, Salem, VA 24153.
Online condolences may be sent to the family at www.johnmoakey.com.