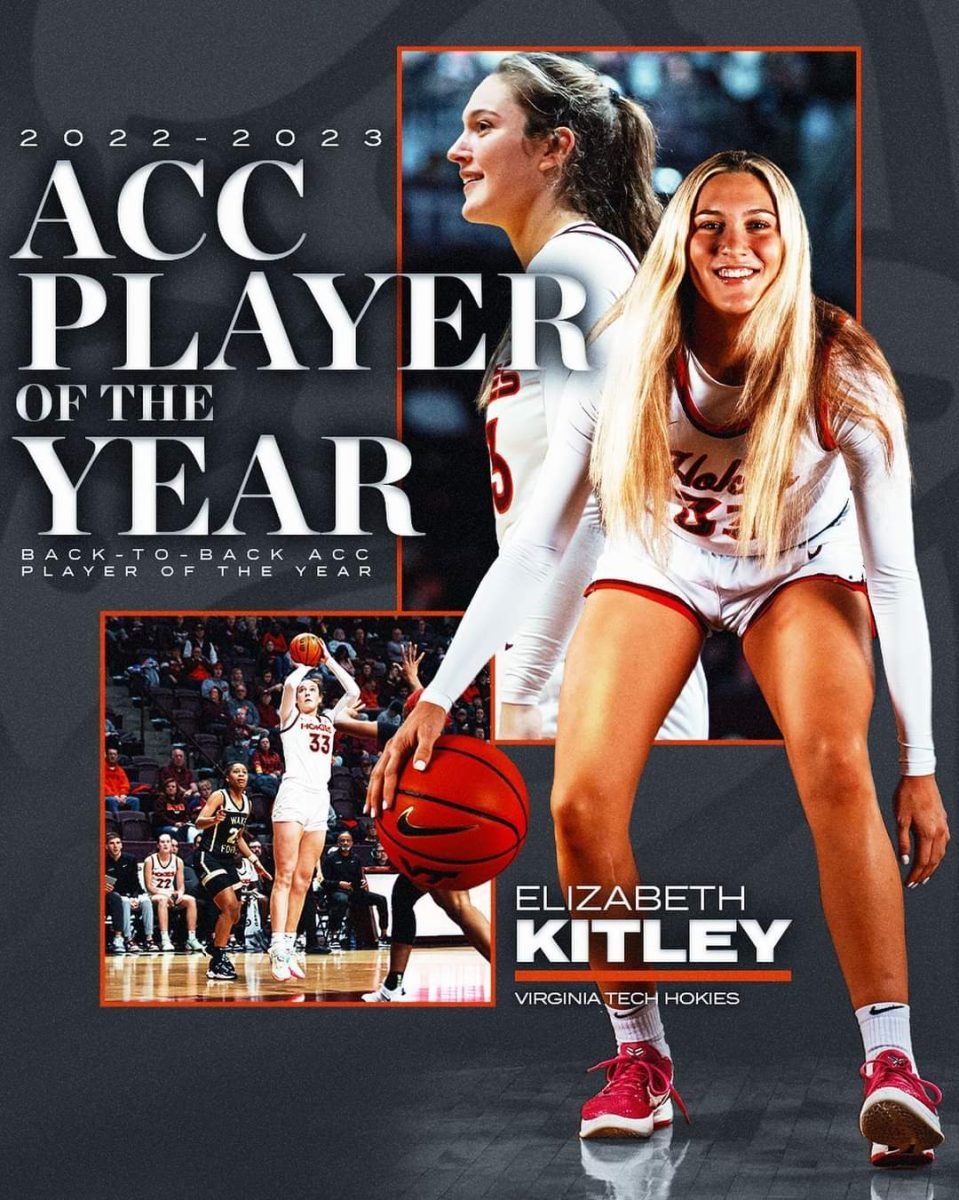 Senior VT center Elizabeth Kitley was named the ACC's Player of the Year for the second consecutive season, the league office announced Tuesday evening. She thus became the tenth woman in ACC history to win the award in consecutive seasons.
The Summerfield, N.C., native ranks fourth in the conference in scoring (18.78), second in field goal percentage (56.9%), first in rebounds per game (10.74), first in blocks per game (2.3), and first in double-doubles per game (18). She is the only athlete in the conference to record a 20-rebound game. 
She has won ACC Player of the Week four times, the most of any athlete, including each of the last two weeks as she has recorded four consecutive 20-point double-doubles while shooting 60.2% from the field. 
With her Player of the Year Award comes a third First-Team All-ACC nod, the most in program history. Kitley was also recognized as an All-Defensive Team member for the second consecutive season. She leads the conference in rebounding, defensive rebounds, and blocks per game this season. 
Kitley is the 20th woman in league history to be named First Team All-ACC three times. 
Hokie point guard Georgia Amoore also earned First-Team honors after averaging 14.6 points and 5.39 assists per game this season.
She averaged 16 points per game during conference play and had seven 20-point games. Amoore earned ACC Player of the Week on February 13 after a 52-point week helped the Hokies to wins over two ranked squads. She also eclipsed 1,000 career points during that stretch. 
The Australia native also led the conference in 3-point shooting, hitting 80 this season or 2.86 per game. She has climbed to fourth in program history in that category. 
Hokie forward Taylor Soule has earned Second Team All-ACC honors, the fourth All-ACC accolade of her career. The West Lebanon, New Hampshire, native has averaged 11.4 points and 5.7 rebounds per game this season and shoots at a 51.7% clip from the field. 
This season she has recorded two double-doubles and scored at least 20 points twice, scoring 24 points against both High Point and Louisville. 
She is on the Cheryl Miller Small Forward of the Year Award midseason top 10 list.
The Hokies, who won a program-record eight straight ACC games, went 14-4 in the league for the first time and earned the three seed in this week's ACC Women's Basketball Tournament in Greensboro, N.C.
–VT Athletics