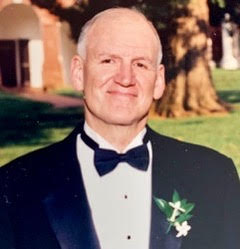 It is with great sadness that the family of Dr. Robert D. "Bob" Finch, 86, of Blacksburg, announces his passing on Oct. 27, 2021. Dr. Finch was born on May 23, 1935, to George Delmar Finch and Retha Gilpen Finch, in Fort Smith, Ark.  
He worked as a paper delivery boy for the Southwest Times Record of Fort Smith from the time he was 12 years old until he attended Hendrix College. As a boy, he was awarded the distinguished prize of Paper Boy of the Year. As the editor of his high school newspaper, he won the University of Tulsa Journalism award.
After graduating from college, he worked as a reporter for the Southwest Times Record for several years. He also worked as a high school math teacher while saving money for medical school. He attended medical school at the University of Arkansas and later completed a radiology residency at Vanderbilt University in Nashville. He finished his medical training at Wake Forest School of Medicine, in Winston-Salem.        
Bob Finch was a proud and happy family man. While attending medical school, he met and married the love of his life, Kay Francis Banks, to whom he was married for 56 years. They met on the eighth floor of the Veterans Administration Hospital in Little Rock where she was working as a registered nurse. They were married on June 10, 1965, in San Antonio. Bob once described his marriage to Kay as one of the "proudest moments" in his life. They spent their 56 years together as devoted companions and best friends raising their family, playing golf and tennis together, and spending time with their grandchildren.  
Their first son, Robert "Jay" Delmar Finch, Jr., was born in 1966 during their time in Nashville. They welcomed another son, George Arthur Finch, who was born in 1969, in Winston-Salem. Their last child, Bradley Walter Finch, was born in 1971 in Martinsville, Va., the town in which the family would settle for the next 46 years.
Dr. Finch was on the medical staff at Martinsville Memorial Hospital for 31 years. He was well respected by his colleagues, many of whom he worked with for decades. He and his partners, Dr. Campbell and Dr. Herring, kept the hospital equipped with the most up-to-date technology in radiology.  Dr. Finch was instrumental in bringing MRI and CT scan technology to Martinsville.   
He was an avid reader and enjoyed playing golf and tennis. He will be especially remembered for his calm, quiet confidence and sweet demeanor.
After his retirement, he devoted his time to his wife and family.  He was a loving grandfather and was actively involved in the lives of his grandchildren, always available for wise words of encouragement. When asked in recent years to describe his perfect day, Bob answered, "It would be spent with my wife, sons, and their families. Nothing spectacular, just a day together."
Dr. Finch is survived by his wife, Kay B. Finch, and his sons Jay, George, and Brad. Jay is an attorney who works in Southwest Virginia and is married to Amy Finch. They have one son, Evin. George is a teacher in Stafford County, Va. He is married to Alyce Finch and they have a daughter, Virginia, and a son, Benjamin. Brad is a circuit court judge in Southwest Virginia. He is married to Lara Finch. They have one son, Bradley, and a daughter, Mary. Dr. Finch will be sorely missed by them and he will forever live in their hearts.
A funeral service was held on Friday Oct. 29, 2021, at McCoy Funeral Home, 150 Country Club Dr. S.W., Blacksburg. The family received visitors prior to the service. Burial followed at Westview Cemetery in Blacksburg.