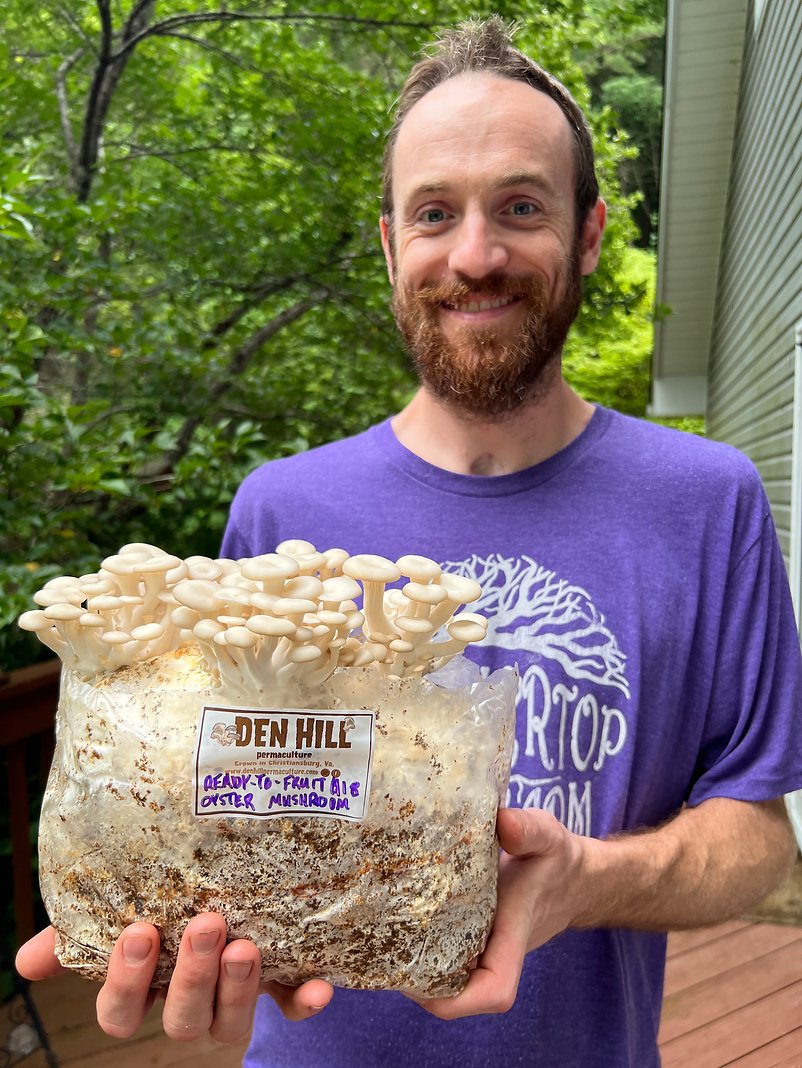 Lori Graham 
Contributing Writer
Den Hill Farm and Fungi plans to expand their offerings into the colder weather, and with Blacksburg Farmers Market fall and winter hours, customers will reap the benefits. 
Benjamin Harder and his farm team bring a variety of mushrooms, kombucha, and vegetables to local customers. This year though, he is hoping to go big over the winter. The Blacksburg Farmers Market has seen growth in recent years, and with their winter season, there is even more opportunity to bring farm-raised fresh produce and mushrooms to customers in the area. 
This is also Harder's third year utilizing a mushroom lab. 
"Before we were using low-tech growing and buying spawn from different suppliers, but now we make spawn, so we can have control over the varieties and what we are growing," Harder said. 
Some mushrooms common to the southwest Virginia region like the mitake or "hen of the woods", Chicken of the Woods, or the infamous and elusive morel mushroom are great for expert foragers who know where to find them. However, for commercial mushroom farms, it would not be lucrative to depend on foraging alone. Additionally, some states may require a certified and licensed forager to commercially sell foraged mushrooms.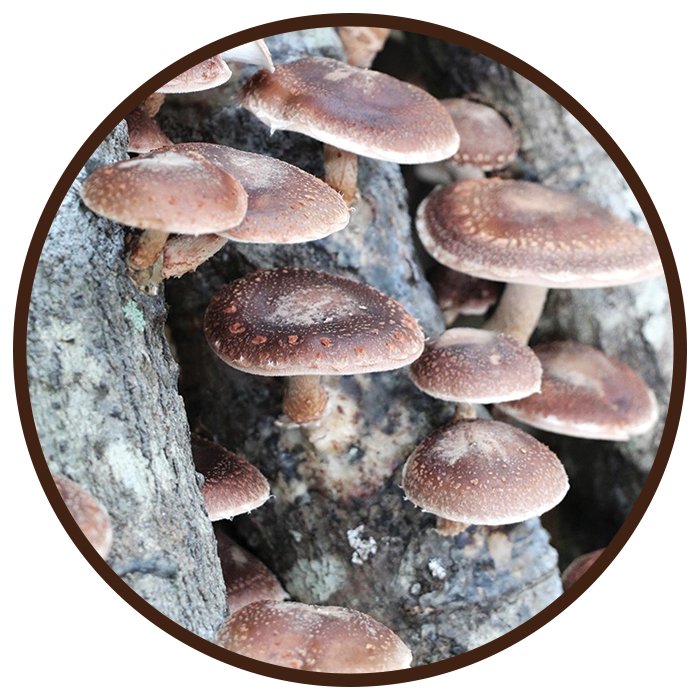 "We have a licensed forager on our team; however, we grow almost 100 percent of the mushrooms we sell," Harder said. "For example, we grow shitakes on logs; we cut our own logs in the spring and plug them with a needle-injector and then they sit for a whole year. The following year you can fruit them every eight weeks. That is a summer crop." 
Shittake inoculated logs can continue fruiting for approximately four years.
Den Hill Fungi and Farm also utilizes blocks made of a sterilized medium of a seed, such as oat, wheat, or soy, to grow mushrooms. Through ultra pasteurization, the sterilized blocks are then opened in a lab with a HEPA filter. 
"It is like 100 percent success. You get the highest yields the fastest," Harder said. "For shitakes, it reduces the time to grow from one year to three months."
For customers wishing to experience growing their own mushrooms, Den Hill sells five-pound bags at the market for $18 each. Harder explained that the bags provide a shorter amount of time to wait for your mushrooms to mature. Harder also said that mushroom growers must tend to the bag-system of growing fungi more carefully than, for example, an inoculated log. 
Growing in popularity now is the mushroom extract powders. Lion Mane, Reishi, and cordyceps, which are used to make a powder that can be included in a variety of things such as coffee. 
Mud water is a product some customers may have recently noticed in a few local coffee shops that provide organic options for coffee, containing a bit less caffeine as well, and is derived from organic materials. Den Hill Farm and Fungi are working with local roasters to make mushroom coffee. Some individuals like the mushroom chai tea that is a mixture of tea and mushroom powders, which can also be added to brewed coffee of a customer's choosing. 
There are so many health benefits associated with fungi edibles as well. 
"Lion mane is linked to cognitive health and cordyceps oxygenate our blood," Harder said. "We grow it on rice…to simulate the inside of an insect and then inoculate it with the cordyceps spawn, so we don't actually grow the cordyceps on dead insects. It is so new and going to be such a big deal, there's a lot of space for innovation and creation."
Portabello mushrooms are mostly available in the grocery stores, but if a customer has tried that type and was turned off by the taste, Harder said not to be discouraged. The mushrooms Den Hill brings are fibrant and flavor-filled, bringing tastes and textures that customers would not expect. Kombucha is also one of their permaculture products. 
Permaculture is about recycling nutrients and also bringing a balance to their farm. They use the compost bags from mushrooms as a base for compost and fertilizers. 
"We have worms that eat the medium and make that into fertilizer for plants and use it for the vegetable farms," Harder said. 
Customers interested in finding new mushrooms to try or purchasing their favorites, as well as other products Den Hill Farm and Fungi have for sell, can find them at the Blacksburg Farmers Market or through their website at www.denhillfarmandfungi.com. 
"The main way to communicate with customers is through the newsletter and you can sign up through our website," Harder said. "We are still doing pre-orders and you can pick them up at the farmer's market, so you don't have to get there early. The other place for pickup is Annie Kay's anytime after 8 a.m. on Saturday. If you can't make the farmer's market, you can pick up there."