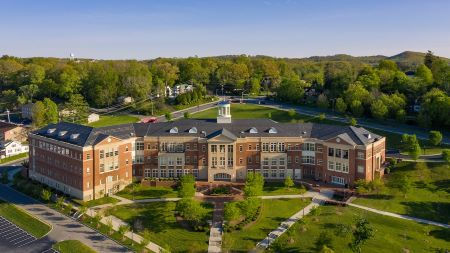 Radford University's Davis College of Business and Economics has had its accreditation extended by the Association to Advance Collegiate Schools of Business (AACSB) once again. The school, first accredited by AACSB in 1992, has now been certified by the organization for more than 30 years.
Davis College was one of 45 business schools to receive a five-year extension last month. Overall, approximately 965 institutions across 60 countries and territories – or just under 6% of the world's schools that offer business degree programs – can claim AACSB business accreditation.
Every recognized school "has demonstrated a focus on excellence in all areas, including teaching, research, curricula development, and student learning," said Stephanie Bryant, executive vice president of the AACSB and its chief accreditation officer. "The intense peer-review process exemplifies their commitment to quality business education."
Associate Dean Angela Stanton, Ph.D., said that consistently maintaining accreditation every five years "is truly a team effort," led by Dean Joy Bhadury, Ph.D., with support from the Davis College leadership team and the collective efforts of the school's entire faculty and staff.
"All of us in the Davis College are very proud of our AACSB accreditation," Stanton said. "It is an external stamp of approval that demonstrates we offer a high-quality business education that provides our students with the necessary foundation for success for their future careers.
"Our AACSB accreditation also lets the world know that our faculty maintain their professional and academic credentials through scholarly activity and engagement with business and industry."
Colton Morris, a senior finance and accounting major from Buckingham, Va., and president of the school's student-managed Investment Portfolio Organization, was one of several student leaders who met with the visiting AACSB team during its evaluations in October.
"We walked them through the classes we were taking, the materials, and how prepared we feel for post-graduation," Morris said.
"AACSB-accredited schools are kind of the gold standard for business schools," he added. "We're competing against schools that have 30,000, 40,000 students, and we have under 10,000. That's a big deal for me. We can compete against some of the bigger universities."
Morris will graduate this spring and has already secured a position as a valuation analyst with Cherry Bekaert in Raleigh.
"Our professors at Radford really helped us get an in-depth understanding of the material. After attending my internship and getting a job offer, I'm really grateful. Their approach helped prepare me more than I think other colleges would have," Morris said.
"This recognition by the premier accreditation agency for business programs is evidence, loud and clear, of the high quality of education provided by the Davis College," Bhadury said.
"We would not be here today had it not been for the hard work and dedication of all Davis College faculty and staff. Equally important has been the support from our alumni, especially the Davis College Advisory Board," Bhadury said. "For that, I feel generally honored and privileged to have had this opportunity to serve them as their dean, and I express my sincere gratitude to them."

Neil Harvey
Radford University