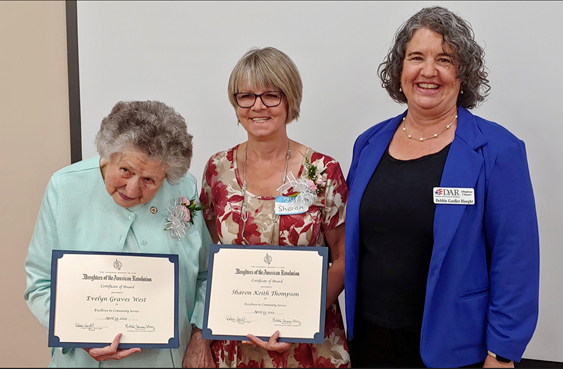 The nationally authorized awards were presented by Alleghany Regent, Debbie Haught.
Over the last several years, 100-year-old Evelyn West has made and donated hundreds of knitted items to the Montgomery County Christmas store, including hats, scarves, and baby layette items. She also began the prayer shawl ministry at the Blacksburg United Methodist Church. Of the more than 1200 prayer shawls given to people, West has personally made over 400. During the award ceremony, when it was announced that she had given 132 items to the 2022 Christmas Store, West smiled and said, "I've already finished 62 for this year."
Thompson is familiar to many residents of Blacksburg because she has been actively involved in a number of activities around the immunity for more than 20 years.  She led the beginning of Blacksburg Battles Cancer. The organization sponsors a golf tournament which has helped it to raise and donate more than $300,000 to local people suffering from cancer.  Thompson has been the volunteer coordinator for the Montgomery County Christmas Store and has recruited the increasing number of workers needed each year. She has also been a guiding light in the local Special Olympics program for several years.
When asked to share their thoughts, both spoke of the satisfaction and happiness which comes to them when they help others. Haught expressed how pleased the Chapter was to be able to reward the women for their kindness and hard work for others.