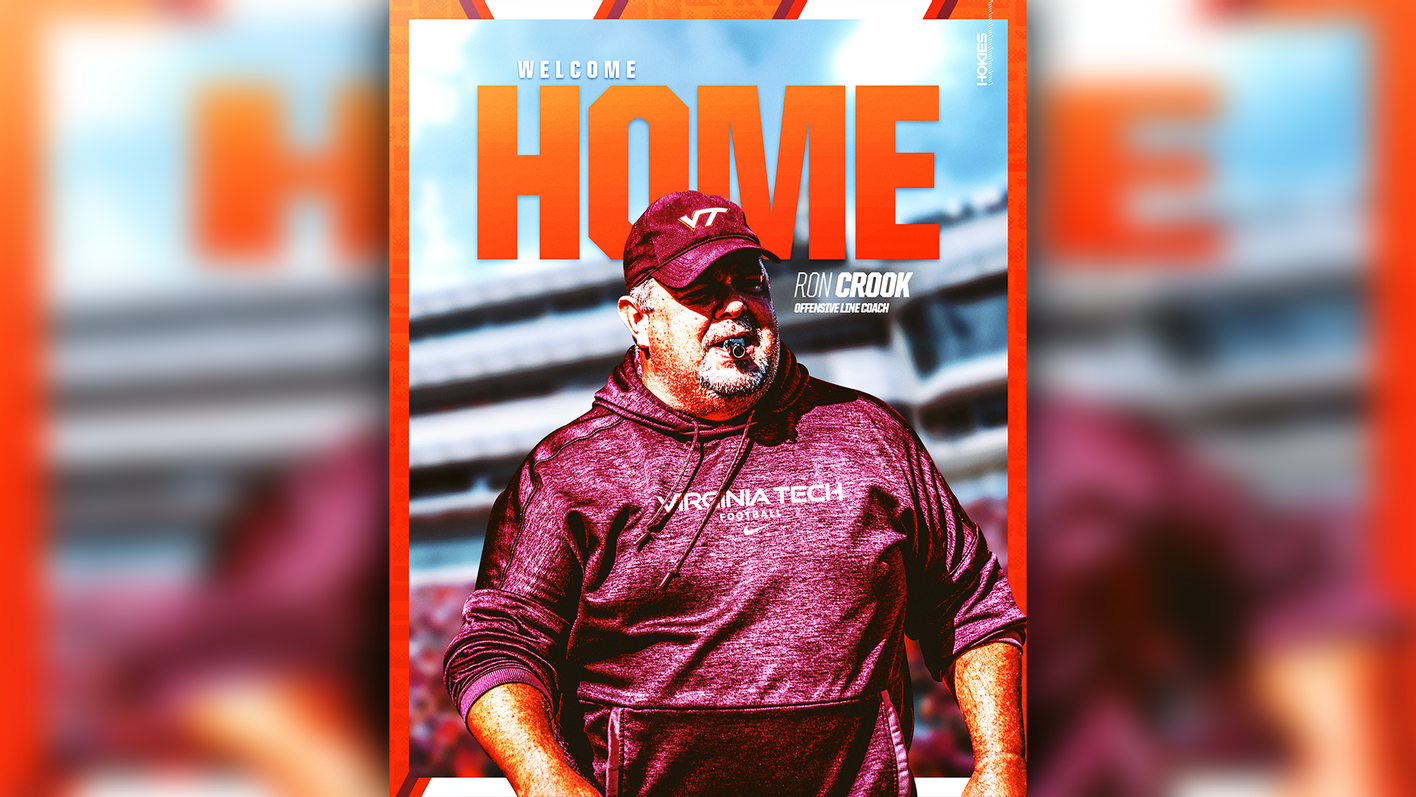 BLACKSBURG – Virginia Tech football coach Brent Pry announced Monday the addition of Ron Crook as offensive line coach. 
Crook's career has spanned three decades and includes stops at Cincinnati, West Virginia, Stanford, Harvard and Illinois, while spending the previous season at South Dakota.
"I am thrilled to add a coach of Ron Crook's caliber to our staff," said Virginia Tech Head Coach Brent Pry. "He brings a wealth of experience coaching offensive line across the Power Five level and in major bowl games. Coach Crook is a great teacher and has a reputation for building tough, physical offensive lines. Ron's time and ties to small college football in West Virginia and Pennsylvania means a lot to me. I know what he is about and what he will bring to our program."
Crook spent five seasons at Cincinnati (2017-21), helping the Bearcats win back-to-back AAC titles and becoming the first Group of Five team to compete in the College Football Playoff. 
In 2021, he coached a group of offensive linemen that had three All-AAC First Team members in Dylan O'Quinn, Jake Renfro and Lorenz Metz. The Bearcats had one of the best offensive line rooms in the nation and helped lead a Cincinnati offense that broke single-season school records in touchdowns scored (70) and points scored (510) through 13 games. 
As a group, the offensive line paved the way for an offense that averaged 6.93 yards per play in 2021, which ranked sixth nationally. The Bearcats also led the AAC in yards per rush (5.4). They allowed only 1.54 sacks per game, which ranked second in the conference.  
Cincinnati's offenses averaged 2.26 rushing touchdowns per game during Crook's tenure (2017-21), ranking 15th best in the country. The Bearcats ranked 10th in 2021 in offensive line efficiency. Crook oversaw four top 25 finishes in rushing offense (2020, 2019, 2018, 2017) and three top 25 finishes in yards per carry (2021, 2020, 2018).
Crook has been an offensive line coach throughout his career, with a wealth of experience in the Pac-12, Big 12, Ivy League and Big 10 conferences. Crook was a part of the West Virginia staff from 2013-16 helping the Mountaineers to three straight bowl games and a ten-win campaign in 2016. He served at Stanford from 2011-12 when the Cardinal won a Pac-12 championship and made two BCS bowl games. Prior to his arrival at Stanford, Crook spent eight seasons (2003-10) as offensive line coach at Harvard. Eight of Crook's players earned first team All-Ivy honors a combined 11 times, including tackle James Williams, who was a three-time All-America and first team All-Ivy selection. In 2002 at Illinois, Crook worked closely with All-Big Ten players Dave Diehl and 2001 All-America Tony Pashos, who were both selected in the 2003 NFL Draft.
Crook also served as the offensive line coach and offensive coordinator at West Liberty State, helping the Hilltoppers to the 2000 WVIAC title. A decade earlier, Crook broke into the collegiate coaching ranks at West Liberty, where he served as a student assistant, working primarily with the tight ends. He also served as the offensive line coach for three seasons (1990-92). 
Crook was part of coaching staffs at West Virginia Tech (1999), Glenville State (1997-98) and Clarion College (1994-96). He was part of NCAA Division II playoff teams at Glenville State and Clarion. 
Crook has coached in the following bowl games: Cotton (2021 – CFP), Peach (2020), Birmingham (2019), Military (2018), Russell Athletic (2016), Cactus (2015), Liberty (2014), Rose (2012) and Fiesta (2011). 
An offensive lineman at West Liberty State from 1986 to 1988, Crook is a native of Parkersburg, West Virginia. He and his wife, Stacy, have three children, Andrew, Cian and Kenley.
VT Athletics