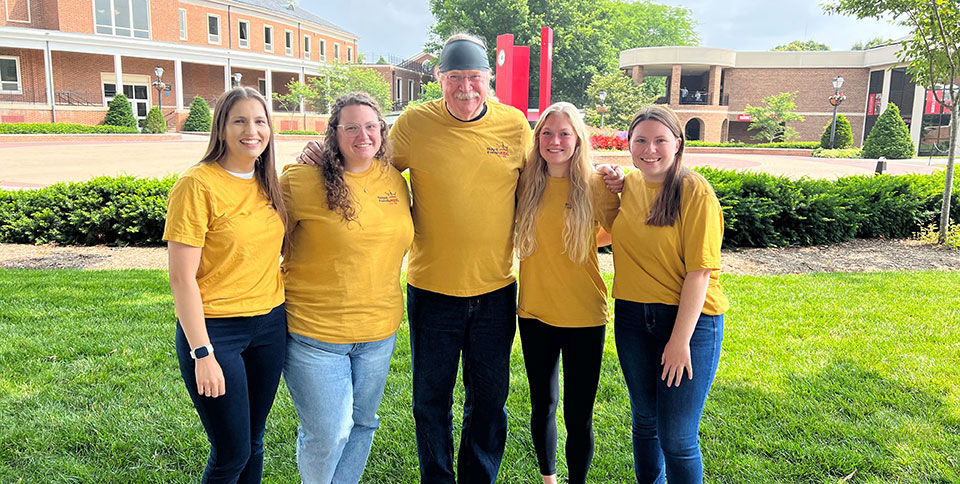 "It has all my favorite things," Wally Scott said, listing the many reasons he has served as a counselor at the Royal Family Kids Camp for nearly a decade of summers.
Those favorite things? Helping and working with children.
In addition to his role as an assistant professor in Radford University's Department of Counselor Education, Scott has worked in the counseling field for more than 30 years in professional settings.
"I've spent my career working with children and families from foster care in the Department of Social Services, to residential care, to outpatient care for children in a community mental health setting, to court services," he said. "And I've served as director of counseling at Family Service in Roanoke."
Scott first learned of the Royal Family Kids Camp when his daughter, attending college in Huntington, West Virginia, near the camp's location, mentioned it to him. That was more than nine years ago. He volunteered and quickly realized it was perfect place for him.
The Royal Family Kids Camp is a summer camp designed to "make moments matter" for children in foster care systems. Camps provide numerous activities for the children. They swim, fish, climb a rock wall, stretch into yoga poses, do arts and crafts and dabble in photography. On Wednesday, there is a birthday party for all the camp kids, and on Thursday, they show their skills and abilities in a talent show. For the 12-year-olds who are aging out of the camp, there is a graduation ceremony at the end of the week.
Camps operate at more than 240 locations across North America and in 12 countries. Scores of volunteers work at the weeklong camps each summer.
This year, Scott brought along to the Putnam County, W.Va., camp four of his current M.S. in Counselor Education program students – Rebekah Skinner, Liz Mazzello, Rachel Hughes and Kassie Wall – and program alumna Lauren Rutledge.
"My experience with the camp was and has been amazing – from beginning to end, I really love getting to know and understand my campers," Mazzello said. "Every child deserves to have motivation and a light in their lives, and I wanted to be that light for a child, even if only for a week."
The Royal Family Kids Camp operates on three principles that are constantly practiced throughout the camp, Scott explained. The first is to treat kids like royalty," like they matter, are valued and really loved," he elaborated.
Camp staff also strive to make so many moments matter. That's the second principle.
"We are not there to treat trauma – although these children come with past traumas – but things will invariably happen and unfold, and when they do," Scott said, "we step into those moments in loving, caring and understanding ways to hopefully affect a different outcome."
The third camp principle involves movement, as in "keep moving forward," Scott said. "Trauma work is all about moving forward, not getting stuck in a scary, painful place, but continuing to take steps, which is how you get to the "other side" of the scary stuff. We practice these three principles constantly during the camp."
Each camp is "well-structured and organized," Scott noted, which creates a sense of safety. There is room, however, for flexibility. "We try to find a path to 'yes,' the professor said, because children so often hear the word "no."
"We pour love into these children and safely love them, so they feel valued and cared for," he continued. "Once the children experience this, it becomes like a magnet that draws them toward."
Providing more insight into the camp's philosophies, Scott evoked the words of the late Karyn Purvis, who led the Institute of Child Development. "She was known to say that when you look into the eyes of a child, you need to be prepared to look back and reflect their preciousness," Scott said. "I do not look into the eyes of a child unless I'm ready to reflect back their preciousness.
"Can you see how healing this is?" he asked.
Spending a week with staff and volunteers who love children as much as he does – and "love each other," he said, is also part of the joy Scott gains from volunteering each summer.
When his daughter, Cecelia, first mentioned and explained the camp, she said, "Dad, it has all your favorite stuff!"
"She was right!" Scott said.
Chad Osborne for Radford University