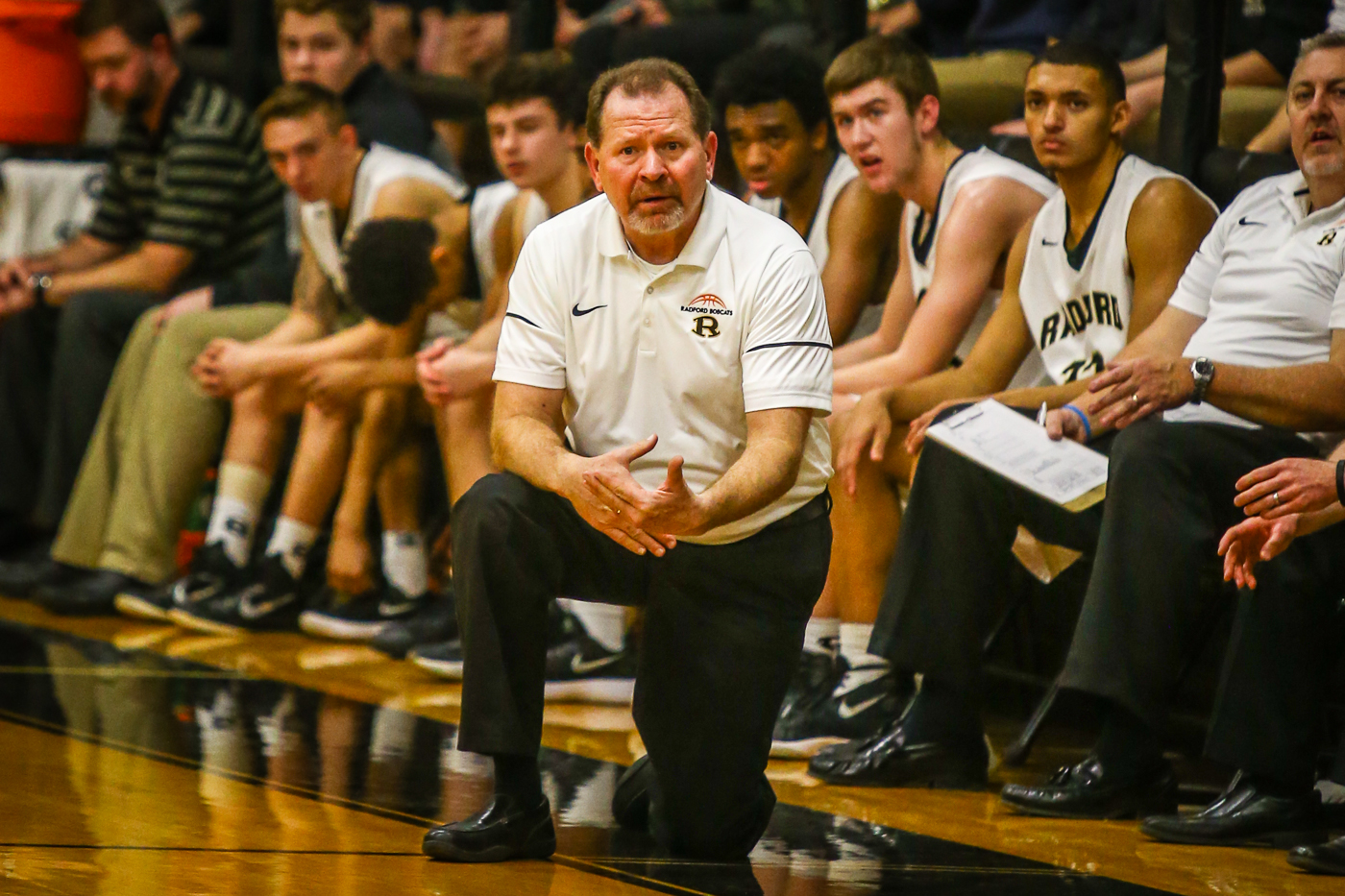 By Marty Gordon
RADFORD – One of the area's winningest high school basketball coaches is stepping down. 
Radford's Rick Cormany announced Thursday he is retiring from a very productive time at the New River Valley school.
"It's just time," he said. "I've been year to year since 2019."
After almost four decades, Cormany will finish his career with 773 wins, good for second-most in VHSL history. He previously served as assistant coach at Radford University before accepting a job as the head man at Rocky Gap. He was there for five years before accepting the post at Radford in 1993. 
Cormany said he doesn't know what he was thinking in those early days at Rocky Gap.
"I just knew I had to try and out work everyone and try to learn everyday if we had any chance to be successful.  I was way too young to be a head coach anywhere, but I had hard working kids that would get to gym at 6 in the morning and would get better," he said. 
The 773 wins puts Cormany in some elite company with the likes of Bluestone's George Lancaster (724 wins), former Maury head man Jack Baker (746 wins) along with retired coaches Bill Littlepage from Hopewell (755 wins) and Robert E. Lee-Staunton legendary sideline boss Paul Hatcher (897 victories).
Cormany just finished his 30th season at Radford and over 560 of his wins have come for the Bobcats.
Radford won 21 of the last 22 regular season championships in the Three Rivers District, 16 of 17 tournament championships, the last four Conference 45 championships, four Region C championships (2001, 2002, 2004, 2013), three Region 1A West Championships (2014, 2016, 2017), two Region 2C Championships (2018, 2019), three state runner ups, nine state Final-4's and state champions in six of the last 12 years.
Cormany finds it hard to pinpoint his favorite memories when you've been a head coach for 40 of your 42 years.  
"Enjoying the locker room and coach's office with players and other coaches will be what I'll miss most," he said. "We worked hard but had fun. All six state championships were fond memories, but all the region and district championships were special as well."
There had been some speculation he would retire after two of his returning players have transferred to post-graduate programs. Rick's son, Gavin, is now at Oak Hill Academy while Elijah Kelly moved to the Miller School near Charlottesville. 
His other son, Gavin, is playing at the Naval Academy. 
"I want to support his team more and be at more of Navy's games," Rick Cormany said.
"I need to be around as dad more and hopefully watch both my sons play as their dad and not their coach.  And I want to get out and hack at that golf ball more," he said with a smile. 
He had retired from his counselor and teaching position at Radford several years ago and had just served as the basketball coach for the past two. 
Radford begins the search for a new coach immediately as preseason basketball workouts were scheduled to start next week. The season will start in November.