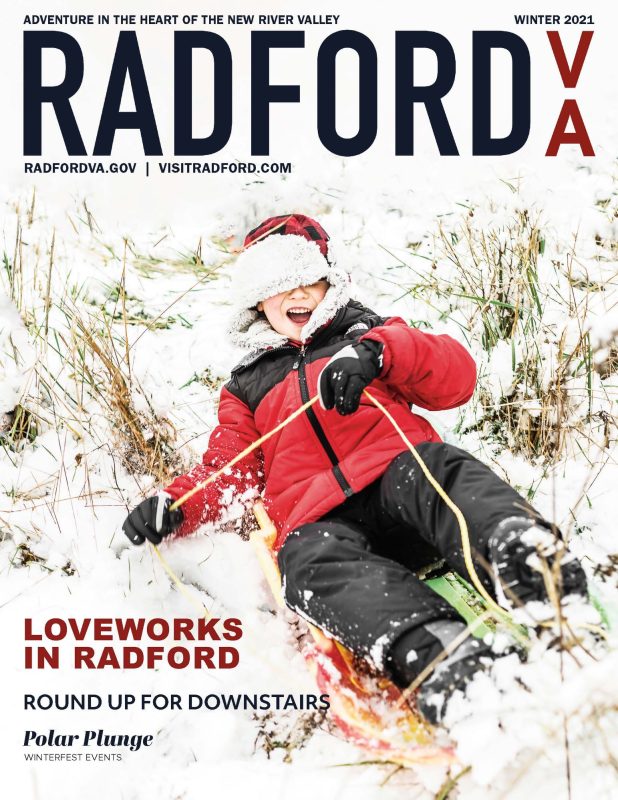 Heather Bell
RADFORD – A glossy new magazine showing off Radford's offerings was released this week with plans to make the publication a regular occurrence.
Spearheaded by Radford Director of Tourism Deborah Cooney, the magazine is the city's newest tool for marketing to both visitors and residents.
"As folks look at Radford as a place to visit, go to school or even to relocate to, we get questions about schools, services and things to do, so I wanted to have a resource for those folks," Cooney said on Thursday. "Also, many residents are unaware of all the things that Radford has to offer, so we thought this would be beneficial to a wide range of people.
"At this time, our goal is to have three updated versions per year — spring, summer and fall/winter — but we may do them more frequently based on available content," Cooney said.
The city worked with Michelle Lea Creative on the magazine. The company also designed the City of Radford's new branding. The Oklahoma-based designer has also completed projects for the Radford Chamber of Commerce and Long Way Brewing.
"We enjoyed working with Michelle Lea Creative, and I'm thrilled with the final product," said Cooney. "The timing of the project seemed right with the popularity of the new logo launch. There's a lot of interest in the livability of Radford right now, and this sort of brings that all together."
Cooney said she thinks even longtime residents of Radford can find out new things about their city in the magazines and the other publications Cooney's office has produced.
"I thoroughly enjoyed working on this project," she said. "I would encourage locals to stop by the welcome center and pick up some of the other brochures that we have that showcase Radford. They are likely to be surprised that we have so much to offer.
"We have publications that feature places to eat and shop, Mary Draper Ingles sites, nearby hikes and more. There's so much to love about Radford and the NRV, and when it all comes together in one place, it makes it easy to see why so many people love the New River City!"
Mayor David Horton lauded the work on the magazine.
"We are so excited to share the inaugural edition of the RADFORD VA e-magazine," said Horton in a Facebook post. "Thank you to Deb Cooney and the Tourism Commission, Michelle Stoddard from Michelle Lea Creative, Jenni Wilder and everyone who helped make this happen. Thanks also to you, Radford. This is about YOU!"
The Radford Guide is available digitally at https://issuu.com/radfordva/docs/radford_magazine_winter2021_finalv2_high-res, and there will be some print copies available at the Information and Welcome Center starting next week.