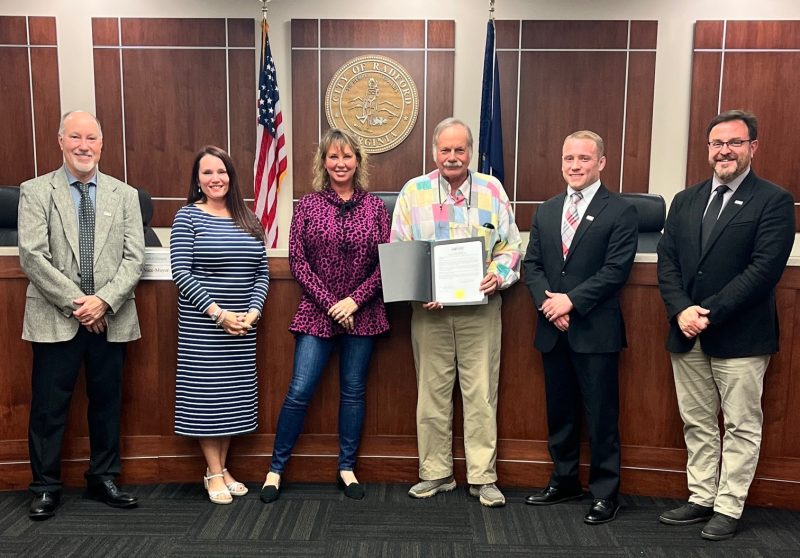 Heather Bell
RADFORD – Radford City Council honored long-time city employee David Young at its May 8 meeting, thanking him for 50 years of service to Radford.
Young's smiling face is well-known by most residents of Radford, as he has been reading the electric meters of city residences and businesses for decades. He has held other positions in the city as well, and Mayor David Horton, a lifelong resident of Radford, recalled the first time he remembers seeing Young.
"I remember playing Little League, I was probably six or seven years old, and there you were working on the fields," he said.
According to the proclamation passed by Radford City Council, Young "began his career in 1972 with the City of Radford and in December of 1978, he became a laborer in the Street Department, advancing to the position of Acting Foreman on September 8, 1980 and Permanent Foreman on June 1, 1981. David also held the position of Athletic Fields Specialist for the Recreation Department from July 1, 2005 to October 1, 2007."
Young is best remembered for his position as meter reader.
"As a result of continued diligent work and demonstrated ability, he advanced to the position of Meter Reader with the Billing and Service Office on April 26, 1982 and has served 39 of his 50 years in this position until his retirement, where he is recognized for his excellent skills, professionalism and knowledge of the City of Radford," the proclamation reads.
"David Young has served Radford with dedication, integrity, and love of the City throughout his tenure and his expertise is invaluable," it continues. "City of Radford does hereby extend our sincere and grateful appreciation for his 50 years of dedicated service to the City of Radford and to our community.  Our congratulations on his well-earned retirement, and our best wishes for continued success, happiness, and good health in the years to come."