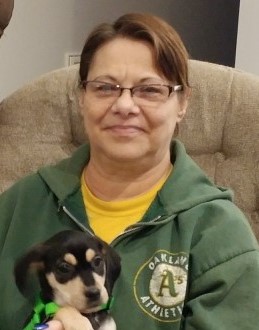 Donna "Kay" Camacho, 67, passed away Wednesday, April 19, 2023, at her home in Fairlawn. She was a social worker. Kay was an avid reader and loved camping with her family. She was preceded in death by her parents, William and Dorothy Sexton.
Survivors include her husband of 26 years, Richard D. Camacho; daughters, Miranda Smith (Dennis)  and Christy Camacho; sons, Garrett Smith, Timmy Smith, and David (Dawn) Camacho; grandchildren, Coy (Samantha) Smith, Sheree Helm, Zach and Braxton Camacho, Cayden Quesenberry, Timmy Quesenberry, and Chelsea (Tristan) Tate; three great grandchildren; brother, Frankie (Janet) Sexton; sister, Debbie (Dale) Smith; special friends, Steve Hill, Julie East, and Shirley Parks; and many other relatives and friends.
The family received friends on Thursday, April 27, 2023, at the Mullins Funeral Home in Radford. Graveside services followed at the Southwest Virginia Veterans Cemetery in Dublin.
The Camacho family is in the care of Mullins Funeral Home and Crematory in Radford.