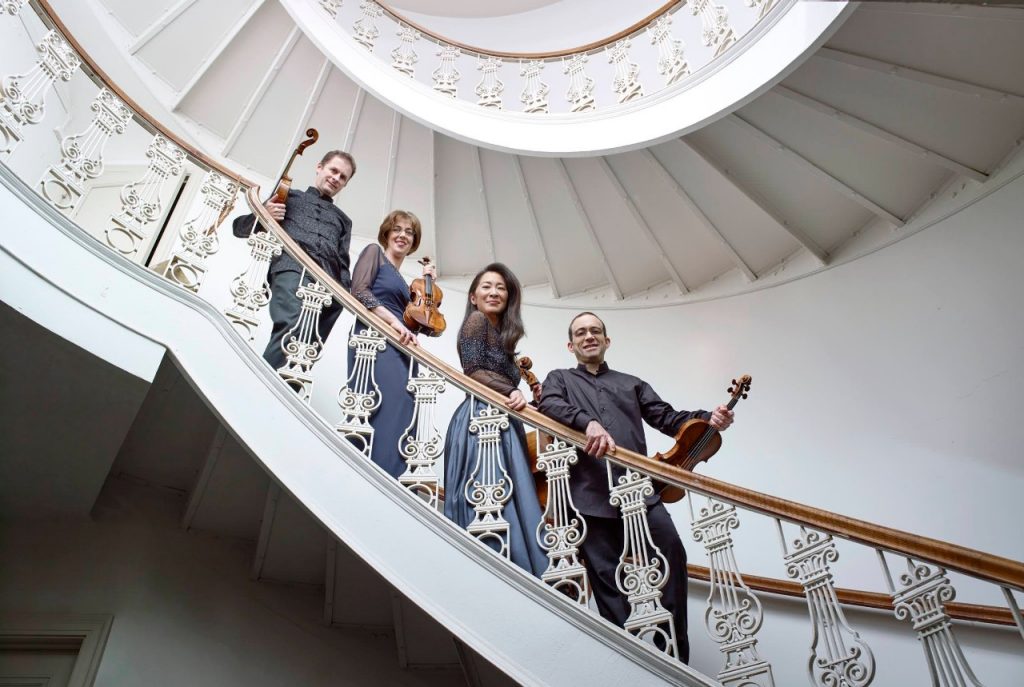 BLACKSBURG – A classical music favorite, the incomparable Brentano String Quartet, returns to the Moss Arts Center with leading violist and Juilliard faculty member Hsin-Yun Huang to open the Moss Arts Center's 10th anniversary season on Friday, Sept. 22, at 7:30 p.m., with a performance featuring works from Haydn and Brahms alongside the world premiere of a piece composed for the ensemble.
The program will include:
Joseph Haydn: String Quartets, op. 33, no. 3, "The Bird"
James MacMillan: Viola Quintet, "Heart Speaks to Heart" (world premiere)
Johannes Brahms: Quintet for Strings in G Major, op. 111
The beloved Brahms quintet has "a special ebullience, grace, and buoyancy of mood and texture. The scores are especially skillful and rich with subtle invention," according to musicologist Kai Christansen. Experiencing it "is a thrill and a bountiful adventure you will not soon forget."
Formed in 1992, the Brentano Quartet has performed in the world's most prestigious venues to popular and critical acclaim. In addition to performing the entire two-century range of standard quartet repertoire, the ensemble maintains a strong interest in contemporary music and has commissioned many new works. Its latest project, a monodrama for quartet and voice called "Dido Reimagined," was composed by Pulitzer-winning composer Melinda Wagner and librettist Stephanie Fleischmann and had its premiere in spring 2022 with soprano Dawn Upshaw.
Hsin-Yun Huang has forged a career by performing on international concert stages, commissioning and recording new works and nurturing young musicians. Her next recording will be the complete unaccompanied sonatas and partitas of Bach in partnership with her husband, Brentano violist Misha Amory.
Watch as members of the ensemble coach Virginia Tech students in string technique and musicality during a master class on Thursday, Sept. 21, at 2 p.m. The event is free and open to the public.
Ensemble members also will visit a music history and theory course, sharing contextual knowledge and guidance in music analysis with students.
Tickets for the performance are $20-$55 for general public and $10 for students and youth 18 and under. Tickets can be purchased online; at the Moss Arts Center's box office, 10 a.m. to 5 p.m. Tuesday through Friday, and 10 a.m. to 4 p.m. Saturday; or by calling 540-231-5300 during box office hours. 
This performance is supported in part by gifts from Intimate Voices and Deborah L. Brown.
Susan Bland for Virginia Tech