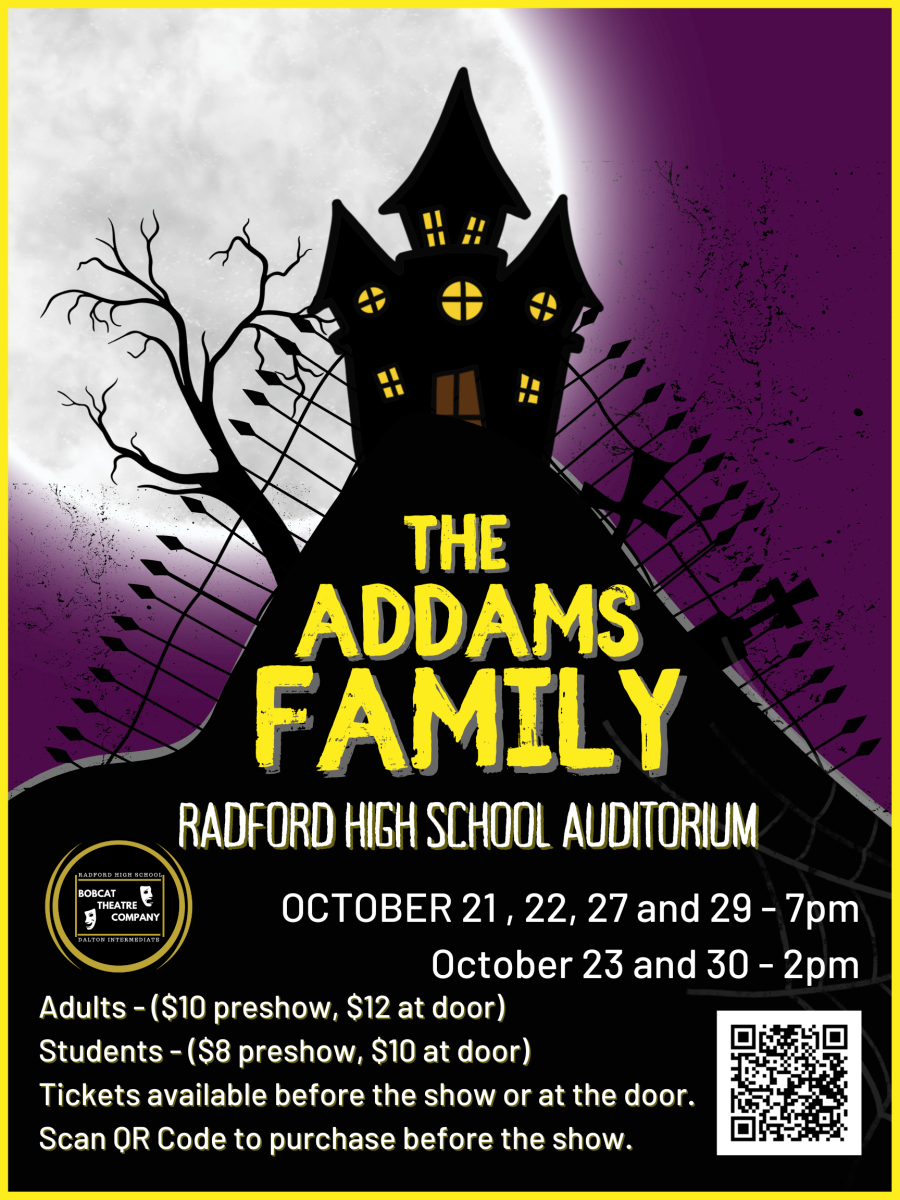 Heather Bell
RADFORD – Just in time for Halloween, theatergoers have the chance to see a spooky fun production for two weekends in a row.
The Bobcat Theatre Company will be presenting "The Addams Family Musical at the Radford High School Auditorium, October 21, 22, 28, and 29  at 7 p.m. and October 23 and 30 at 2 p.m.
The Addams Family is "a comical feast that embraces the wackiness in every family, features an original story and it's every father's nightmare: Wednesday Addams, the ultimate princess of darkness, has grown up and fallen in love with a sweet, smart young man from a respectable family–a man her parents have never met," a description of the play reads. "Everything will change for the whole family on the fateful night they host a dinner for Wednesday's 'normal' boyfriend and his parents."
Casey Worley, Director of Theatre Arts at Radford High School, is directing the show and says audience members are in for a great time seeing students from all four Radford City School perform. Worley, who has been overseeing the theatre arts program at Radford High for the past four years, said the growth of the high school drama department into the Bobcat Theatre Company is a unique approach to performances.
"The cast and crew of 50 students and production staff is made up of students in grades sixth through twelfth mainly, with students in third through fifth grade as featured actors," he said. "This is my fourth year at Radford, and we have grown significantly. The program is now offering opportunities on stage and behind the scenes for students in all grades of Radford City Schools. Our name "Bobcat Theatre Company" represents our unique approach that represents all of Radford City Schools."
"We have been working on this show for about seven weeks, and this is the first time we are offering a show two weekends," he added.
Cast members include:
Gomez- Collin Baron
Morticia- Ali Schepisi
Wednesday Abbey Napolitano
Pugsley- Mickey Baron
Fester- Seth Baron and Justin Anzziani
Grandma- Evelyn Riffe
Lurch- Caroline Pappas
Alice- Erin Wilson
Mal- James Riffe
Lucas- Princeton Stevens and Summer Fisher
Ancestors- Andy Woodard, Ashante White, Dominic Napolitano, Emily Crawford, Jackson Barnett, Justin Anzziani, Kate Dishon, Katherine Woinski, James Riffe, Libby Carchia, Lydia Pratt, Olivia Spaulding, Summer Fisher, and William Johnson
Young Pugsley- Leo Dalton and Hudson Jarrell
Young Wednesday- Nadia White and Zelda White
Crew members include:
Director- Casey Worley
Music Director- Darren Goad
Choreographer- Emily Gruver
Crew Manager- Eryn Dove
SM Stage- Ella Semple
SM Booth- Valeria Sosa-Flores
Lights- Asia Marunich and Aubrey Bruintjes
Sound- Zach Terry
Make-up- Frankie Jones, Josie Stoots, and Zoey Body
Run- Anabel Barry, Ayden Pugh, Dillon Winemiller, Kadince Cales, McKenzie Zaky, Natalie Grayson, Omar Lopez, Seth Walton, and Tori Rainer-Dixson.
The show opened Friday, Oct. 21, and has a 7 p.m. showing today, Saturday. Oct.22. A 2 p.m. matinee is set for tomorrow, Sunday, Oct. 23. Next weekend's shows are 7 p.m. on Friday, Oct. 28 and Saturday, Oct. 29 and 2 p.m. on Sunday, Oct. 30.
Adult tickets are $10 preshow, and $12 at door. Students are $8 preshow, and $10 at the door. Tickets can be purchased at: https://www.showtix4u.com/event-details/67559.