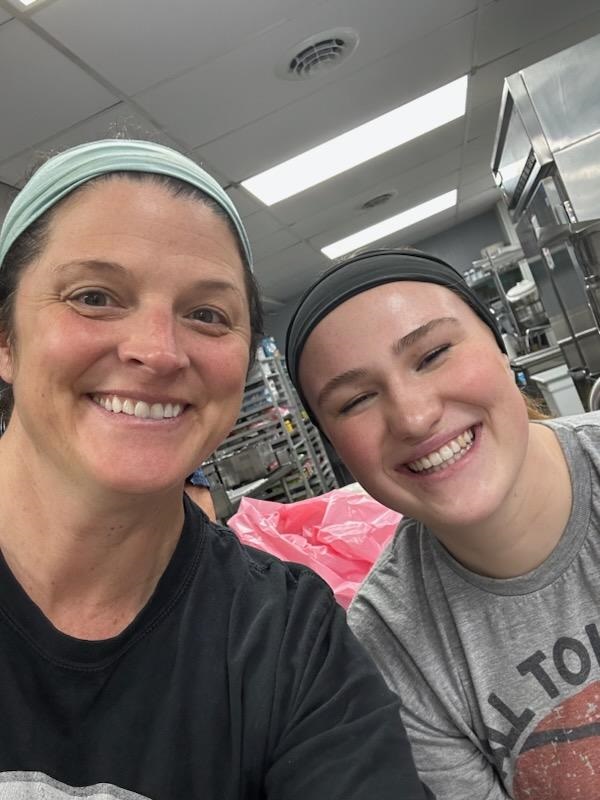 Lori Graham
Contributing Writer
Robin Burdette, owner of The Blue Ridge Fudge Lady and a Shawsville native, had always dreamed of owning a business in downtown Christiansburg and now she has found a place she and her café can call home. 
Her fudge and chocolate business first began its journey in Radford, selling at the downtown farmers market where her fudge and chocolates gained attention, along with her zest for life and happiness. 
She then had a storefront in downtown Radford called the Doghouse Gifts and Chocolates. The idea was for people to buy chocolates and fudge to "get out of the doghouse," a funny spin on the phrase. Her friend joked with her that the name might attract a different kind of customer; dogs and their owners looking for dog treats. So, when the first customer came in with a dog, she thought it was hilarious. 
Her next move brought her to the town of Pulaski, where she changed the name of the business and rebranded with a new logo, becoming The Blue Ridge Fudge Lady. While in this location, she found a positive response and continued to grow a community interest in her business. One of the business's hosted events drew quite a crowd with the signing of Ron Peterson's book, Under the Trestle. Unfortunately, as with many businesses, the arrival of the pandemic greatly impacted her in-person sales. 
"Online sales were really good but retail sales had decreased over the previous couple of years," Burdette expressed.  "I didn't know where I would go and felt a little homeless." 
The Blue Ridge Fudge Lady was not ready to be defeated though. She was hosted for a while by Draper Mercantile and also rented a space for a time in Fairlawn near Wal-Mart. 
"I really wanted to move to Christiansburg and for a year I couldn't find anything" she said. "It is the best downtown area and just so cute." 
That is when Donna Speaks called her. A business owner and close friend, Speaks was leaving her downtown Christiansburg space and even had equipment for sale. 
"I had dreamt of being in this spot," Burdette beamed. 
The Blue Ridge Fudge Lady Café is now open for breakfast and lunch, with their grand opening on April 10, 2023, and are located on 4 West Main Street #110 in Christiansburg. Customers will find the fudge varieties that Burdette has become known for but also lots of other food choices from sausage and egg biscuits, toast or burritos, to soup and sandwiches, additional snacks and a la carte items. 
Burdette hopes that when people come to the café, they will be joyful and happy about being there. 
"We try to have a fun environment. We have drive-by fudge handouts on Saturdays, sometimes we will even dress up in costume to enjoy a laugh," Burdette jokes. 
Not only is Burdette a business woman, providing fudge and other delicacies to the New River Valley for several years now, she also works for the Department of Defense 40-60 hours a week. Previously a cryptologist for the Navy, she found this work was a natural fit for her and continues to work in the field of cyber security as a contracted civilian. 
Veterans Day is a big day for The Blue Ridge Fudge Lady as well. She has been giving away boxes of fudge for several years to veterans to thank them for their service. Last year, she unfortunately had to miss out on this tradition because she was prepping the store for opening. This year the giveaway will be coming back big and strong. Burdette has employed the help of police officers previously, with areas from Galax to Botetourt participating. Police officers volunteer to deliver the goodies in their own communities resulting in over 400 boxes brought to the hands of veterans. 
The Blue Ridge Fudge Lady is open Monday through Saturday, 7 a.m. to 5 p.m., along with online purchasing options available as well. The café in Christiansburg also offers a space for meetings, receptions, and other events. Their Blue Room meeting space is located upstairs in the shop comfortably catering up to 50 people. Check out The Blue Ridge Fudge Lady on Facebook or at their website at www.fudgelady.com.