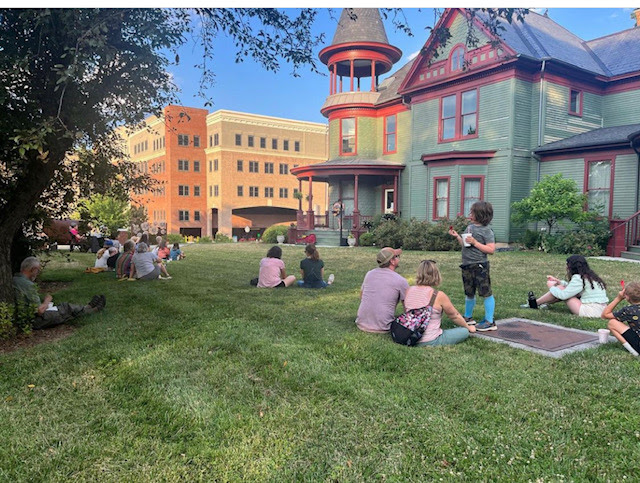 This past year saw the return of beloved annual events to the Blacksburg Museum & Cultural Foundation that had been canceled due to covid for several years. Having experienced a significant pause in our ability to gather as a community renewed our appreciation for the cornerstone of community life that the Museum provides. We look forward to what the next few years will hold for the Museum's growth.
This year the Museum pushed new boundaries with a slate of celebrated exhibitions spanning art and history. From the history of the Lyric Theater to regional music history, this year's exhibitions illuminated the full character of the region. Exhibitions this year included: The Twenties: Virginia Women's Fashions After the Great War, End of the Line, A Multimedia Exhibition by Bill Ratcliffe, Virginia is for Farmers: Agriculture in SouthWest Virginia, Then and Now, Trace Elements, An Installation by Amanda Lechner and Michael Borowski, From Africa to Appalachia: Roots of Old-Time and Bluegrass, and Fashion History Moving Forward: Animating the Present, Considering the Past.
In 2022, the Museum served the community with a host of inspired programming of music, lectures, classes, and events, including a petting zoo and haunted house. Some highlights of the year include launching a Summer Rhythms concert series featuring regional musicians, a lecture and music demonstration presented by Willis-based Fiddler, Earl White, art classes taught by Leana Fischer, and the return of our Annual Gospel Sing and Blues, Brews, and BBQ.
This year the Museum was selected to participate in the Collections Assessment for Preservation program, a critical step toward our mission to preserve local history. CAP helps museums improve the care of their collections by providing support for a general conservation assessment of the museum's collections and buildings. The museum will work with a team of preservation professionals to identify preventive conservation priorities. The final assessment report will help the museum prioritize its collections care efforts in the coming years.