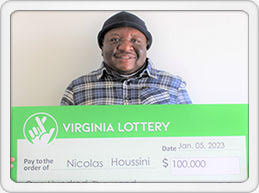 Nicolas Houssini likes to help people. The Blacksburg man drives for Uber and says he enjoys assisting people in their everyday lives.
On January 1, he became one of seven $100,000 winners in Virginia's New Year's Millionaire Raffle. As he claimed his prize, he told lottery officials he hopes to use at least part of his prize to help feed homeless people.
"I love Blacksburg, and I love people!" he said. "I want to give back!"
He bought ticket #580519 at the 7-Eleven at 1350 North Main Street in Blacksburg. The other six $100,000 winning tickets were bought in Chantilly, Fredericksburg, Gloucester, Midlothian, Portsmouth and Woodstock.
Five $1 million winning tickets were bought in Burke, Danville, Henrico, Midlothian, and Woodbridge.