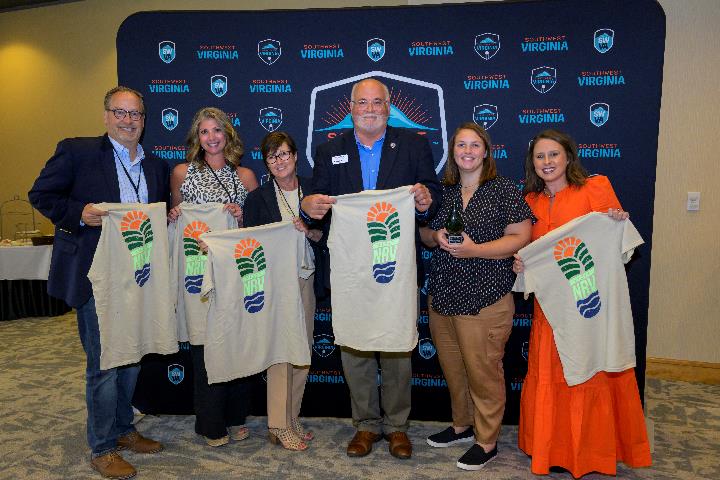 On Tuesday, August 1, the Southwest region of Virginia's travel and tourism stakeholders gathered together at the Wytheville Meeting Center for the fourth annual Celebrate Tourism Summit. 
Attendees included destination management organizations, hotels, attractions, Chambers of Commerce, elected officials, and tourism stakeholders from across the 19 county and four independent cities that make up the Southwest Virginia region.
During the luncheon portion of the summit the Friends of Southwest Virginia hosted the SWVA Tourism Awards. The 38 award categories were presented to worthy recipients in tourism marketing, visitor services, special events, and industry leadership. 
"Our tourism partners have shared with us over the last year how much momentum they can feel in the tourism industry in Southwest Virginia," said Kim Davis, Executive Director of Friends of Southwest Virginia. "We are proud to celebrate the accomplishments of each of our tourism and hospitality partners who have made this possible through their promotion and development throughout the region."
The Tourism Offices of Virginia's New River Valley were the category winner in the Best New Website for a Locality, Marketing Budget $50,000 or More. The newly designed and relaunched website was made public in May of 2023. The destination management organizations (DMOs) of Virginia's New River Valley began this project in late 2022. The project also resulted in new travel tourism branding for the entire region.
The website, VisitNRV.com, highlights opportunities for visitors to explore the amenities of the region, build their own adventure around popular travel themes to the area, and learn more about the communities and people that make up the New River Valley. 
"We are proud to highlight the amazing activities and places visitors to our region can discover through this new website," said Cora Gnegy, Tourism Director for Giles County. "This resource presents the opportunities within our region in a beautiful and thoughtful way, so that visitors and potential visitors have confidence in their travel inspiration and further planning."
The Destination Marketing Organizations (DMOs) for Virginia's New River Valley include the localities within the counties of Floyd, Giles, Montgomery, and Pulaski, and the City of Radford.
Tourism is big business in Virginia's New River Valley, based on recent annual data from the Virginia Tourism Corporation, travelers to the region had a total economic impact of $383 million dollars, averaging nearly $77 million dollars across the region – with the food & beverage sector leading the way, followed by lodging.  Nearly 4,000 residents, with a labor income of $26 million dollars, are attributed to the local travel industry.
Submitted by Cora Gnegy, Giles County Tourism Director & Economic Development Coordinator