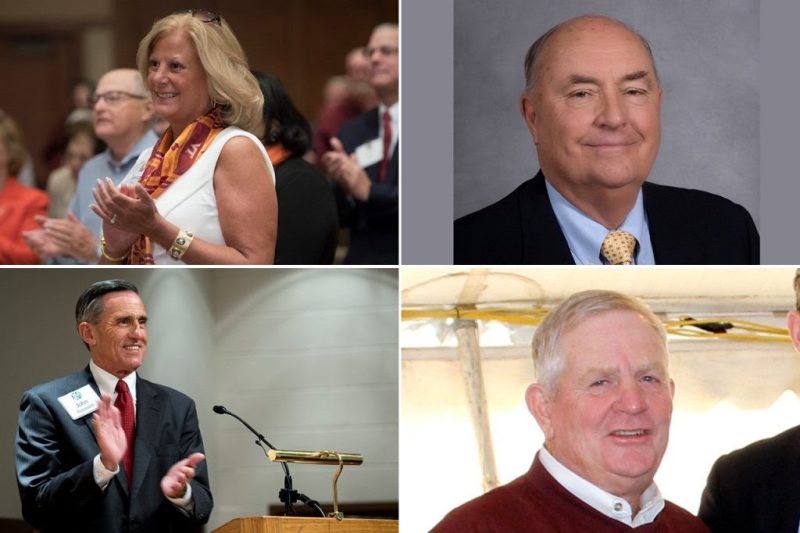 BLACKSBURG – Gov. Glenn Youngkin recently appointed three members to the Virginia Tech Board of Visitors. 
The appointees are Nancy V. Dye of Roanoke, Virginia; William B. Holtzman of Mount Jackson, Virginia; and John G. Rocovich of Roanoke. Each will serve a four-year term effective July 1.
In addition, Don Horsley of Virginia Beach, Virginia, who as president of the board of directors for the Virginia Department of Agriculture and Consumers Services, will join as an ex officio member of the board for a one-year term.
Dye, Holtzman, and Rocovich have all previously served on the Board of Visitors. Dye was appointed by former Gov. Bob McDonnell and served from 2012-16; Holtzman was also appointed by McDonnell and served from 2010-14; and Rocovich served on the board from 1997-2005, appointed by former Gov. George Allen, and again from 2010-14, appointed by McDonnell. Rocovich was board rector from 2002-04.
"All three returning members have a long legacy of support for Virginia Tech and have demonstrated their commitment to our mission to serve the commonwealth," said Virginia Tech President Tim Sands. "We look forward to working with them to realize our bold vision for the university's future. And we're proud to welcome Don as a Hokie and a leader who shares our long-standing commitment to Virginia agriculture." 
An advocate for access to and affordability of higher education for Virginia students, Dye has served on the Ferrum College and Hargrave Military Academy boards of trustees. She also has served on the Juvenile Diabetes Foundation board of directors, the Mill Mountain Advisory Committee, and the Military Family Support Center board of directors.
Holtzman, who received his degree from Virginia Tech in horticulture in 1959, is president and owner of Holtzman Corporation, which includes Holtzman Oil Company and a number of divisions in industries ranging from food to equipment to construction to fuel transport. Over the years, he has been actively engaged in numerous aspects of the university. He served on the Virginia Tech Foundation Board, was vice chair of the Campaign for Virginia Tech: Invent the Future, and the Holtzman Alumni Center was named in his honor.
Rocovich, a 1966 graduate of what is now the Pamplin College of Business, is chairman of the law firm Moss & Rocovich in Roanoke. His service to Virginia Tech has enhanced many programs across the university. He served as a member and chair of the Virginia Tech Foundation, was president of the Virginia Tech Alumni Association, served on the board of the Virginia Tech Corps of Cadets Alumni Foundation, and as president of the board of directors of the W. E. Skelton 4-H Educational Conference Center at Smith Mountain Lake. He received the university's Alumni Distinguished Service Award in 2000.
Horsley, a 1969 graduate of Virginia Tech, is a member of the College of Agriculture and Life Sciences Hall of Fame. He was named Virginia Farmer of the Year in 2011, and Horsley and his family operate Land of Promise Farms in Virginia Beach.
Also Joe Merola, professor of chemistry in the College of Science, will serve as the faculty representative; Janice Austin, assistant dean and director of admissions and academic progress in the Graduate School, will become the administrative and professional faculty representative; and LaTawnya Burleson, executive assistant to the vice president for information technology, will become the staff representative. All three will serve one-year terms.
William Storey, a rising senior majoring in environmental science in the College of Agriculture and Life Sciences, will become the undergraduate student representative, and Emily Tirrell, a graduate student working toward her Ph.D. in translational biology, medicine, and health, will become the graduate and professional student representative. Both will serve one-year terms.
In June, the board announced Ed Baine, president of Dominion Energy Virginia, will serve as rector. Sharon Brickhouse Martin, founder and president of Brickhouse-Martin Healthcare Engineering, had been nominated to serve as vice rector, contingent upon her reappointment to the board. Because she was not reappointed, the board will select a new vice rector at its August meeting.
Virginia Tech