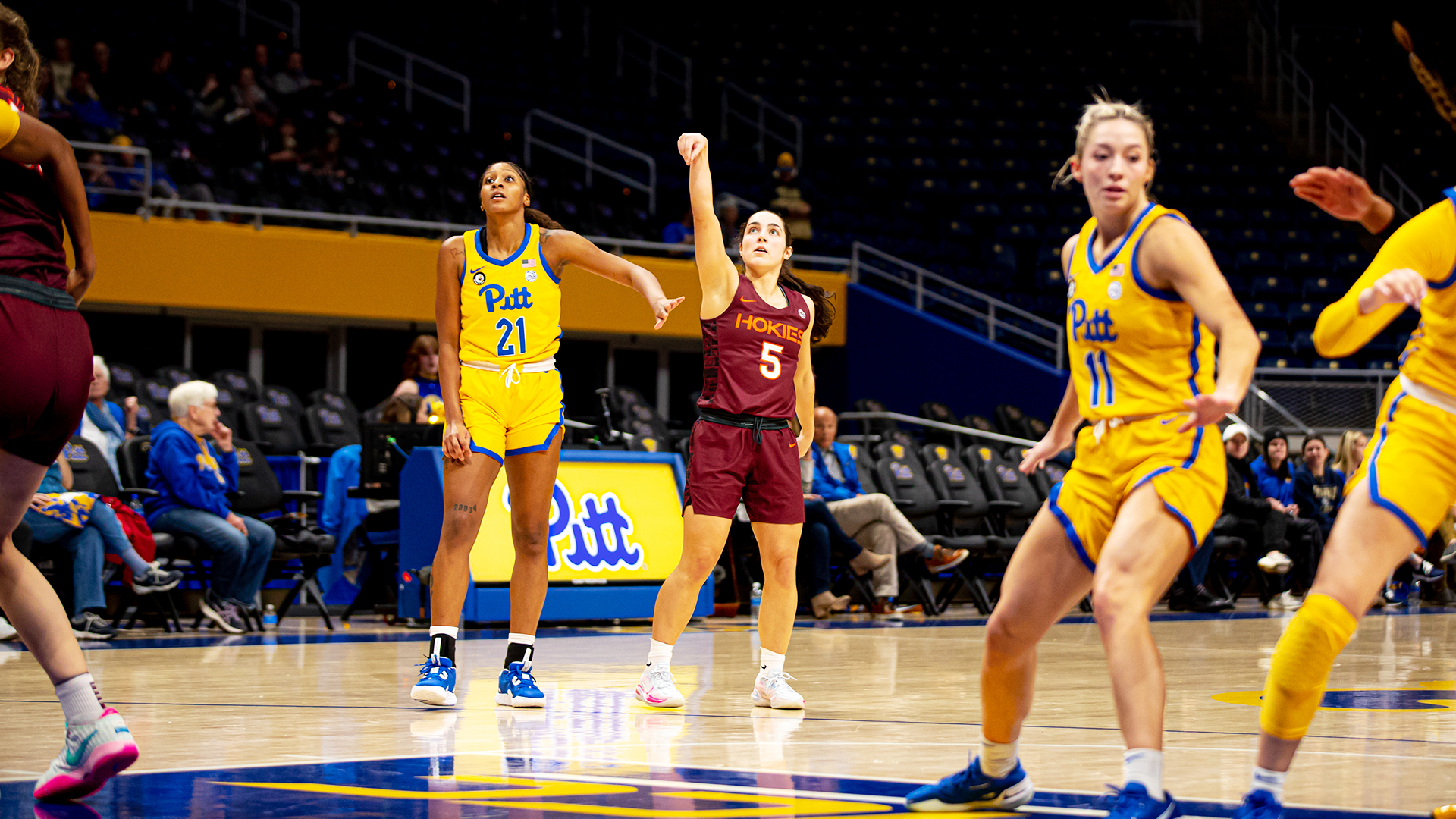 PITTSBURGH, PA –Elizabeth Kitley and Taylor Soule each recorded double-doubles to help lead the Virginia Tech women's basketball team past the Pittsburgh Panthers 69-62 on the road Thursday, Jan. 19.
The double-doubles by Kitley, who had 13 points and 13 rebounds, and Soule, who had 12 points and 11 rebounds, led the Hokies (15-3, 5-3) in the contest. Georgia Amoore helped out with 21 points and two steals.
Led by Soule's eight offensive rebounds, Virginia Tech did a great job crashing the offensive glass, pulling down 13 boards that resulted in 12 second chance points.
How It Happened
Virginia Tech started out the scoring by going on a 5-0 run, culminating in a bucket from Kitley, to take an early lead with 8:20 left in the first quarter. The Hokies then lost some of that lead, but still entered the quarter break with a 17-13 advantage. Virginia Tech got a great contribution from its bench in the period, as non-starters accounted for five of its 17 total points.
The Hokies maintained their lead in the game's second frame and entered halftime with a 34-32 edge. Virginia Tech ran the fast break well, scoring four fast break points.
Following intermission, Virginia Tech continued to expand its advantage, pushing it to 50-44 before going on a 5-0 run to expand its lead further to 55-44 with 2:36 to go in the third. Before the conclusion of the third period, the Panthers had cut into that lead somewhat, but the Hokies still entered the fourth quarter with a 57-50 edge. Virginia Tech scored six fast break points in the quarter.
The Hokies then held on for the victory in the fourth quarter. Virginia Tech fired away from deep in the quarter, knocking down two shots to account for six of its 12 points.
Game Notes
» Virginia Tech got double-doubles from both Elizabeth Kitley and Taylor Soule.
» Tech lit it up from three-point land, knocking down eight treys in the game.
» The Hokies never trailed after taking a 17-13 first-quarter lead.
» Virginia Tech had a 36-30 edge on the boards in the win.
» Tech cleaned up on the offensive glass, collecting 13 offensive boards in the game.
» Elizabeth Kitley grabbed a game-high 13 rebounds to lead Tech and Taylor Soule contributed 11 boards.
Up Next at Home
The Hokies return to Cassell Coliseum on Sunday, Jan. 22, at 1 p.m. versus Wake Forest.