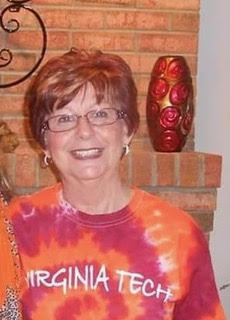 Barbara Olinger Albert, 73, of Christiansburg, died early Monday morning on May 8, 2023. 
She passed away into the waiting arms of her Heavenly Father, as she slept peacefully. Her faith was in her Lord Jesus Christ and she accepted him as her Lord and Savior. Barbara worked diligently for 50 years, starting at a Virginia Tech drugstore as a waitress, Cooks Clean Center and ending at Federal-Mogul, where she worked her final 43 years as an inspector. 
Barbara took great pride in her work, her family and her home. She kept a spotless home and she is probably cleaning and shining the pearly gates and streets of gold in Heaven. Barbara was a beautiful lady who was serious about her appearance. You would never find her even visiting the mailbox without wearing her favorite lipstick. Barbara was the boss of her daughter Trena and made it clear to always look nice even if you were going outside for a minute. Barbara was known for her delicious chicken and dumplings, and she made sure to cook good things for her family. Barbara loved feeding her birds outside her living room window, where they waited patiently twice a day for her to visit them. Her hobbies included watching Wheel of Fortune and minding her business. 
Barbara was a wonderful caregiver. Through the years she cared for her sister Judy, her brother Richard, and most recently her beloved husband Kenny. 
Barbara is survived by her daughter Trena French, and husband, Paul; stepson Kevin Albert and wife, Lisa; and stepson Byron Albert. Barbara has four grandchildren, Christopher and Joshua Albert, and Bryson and Renee Albert. She is also survived by her sisters Sarah Denig and husband, Joe, and Connie Huff and husband, Boyd; and sister-in-law Peggy Eads and husband, Ray; along with numerous nieces and nephews. 
Barbara was pre-deceased by less than two months, by her loving husband of 44 years, Kenneth Albert. Barbara was also pre-deceased by her brother Richard Olinger, sister Judy Horne, and parents Pierce and Lucy Olinger. 
Barbara's family received friends Wednesday, May 10, 2023 at McCoy Funeral Home, 150 Country Club Drive SW, Blacksburg where a service celebrating Barbara's life also was held in the chapel. Family friend Jimmie Lee Price, Dallas Vines, and daughter Trena French officiated. There was no graveside service.