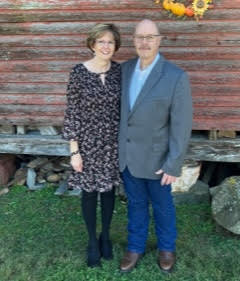 Larry Wendell Akers, 57, of McCoy, went to be with Jesus, Sunday, April 16, 2023. 
He was born in Montgomery Co. on March 30, 1966. He was preceded in death by his father, Sidney Edward Akers; brother-in-law, Bobby Agee, for whom he cared for 20 years; and aunts, Frances Sheppard and Linda Parmelee.  Larry attended Harbor of Hope Pentecostal Church, where he served on the security team. He served as a deputy for 25 years with the Montgomery County Sheriff's Office, and 37 years as a fireman with the Longshop-McCoy Fire Department. 
He is survived by his wife of 36 years, Ruth Ann Akers; sons and daughters-in-law, Justin and Whitney Akers, and Nicholas and Michaela Akers; grandchildren, Connor Akers, and Sawyer Akers; mother, Eunice Jones; brother and sister-in-law, Gary and Shirley Akers; sister, Lynette Akers; sister-in-law, Peggy Winters; brother-in-law and sister-in-law, Billy and Donna Agee; special uncle, Aubrey Sheppard; special cousin, Link Sheppard; many special nieces and nephews; his furbabies, Harley and Ethel of the home, and Dixie and Brugh. 
The family wishes to thank special friends, Gail, Lisa, Debbie, his special work family, Sheriff Hank Partin, Captain Jason Cochran, Lt. John Stull, all of the Montgomery County Sheriff's Office, all of the first responders of Montgomery County,  as well as the Doctors and Nurses at New River Valley Medical Center and Blue Ridge Cancer Center. 
Funeral services were conducted Wednesday, April 19, 2023 in the Harbor of Hope Pentecostal Church with his friend, Pastor Craig Reed officiating. Interment followed in the Sunset Cemetery. The family received friends Wednesday prior to the service at Harbor of Hope Pentecostal Church. Flowers will be appreciated or donations may be made to Longshop-McCoy Fire and Rescue.  Arrangements by McCoy Funeral Home, Blacksburg.